If there is anything that dominates the Viennese fast-food restaurant "End of the Line" more that the smell of greasy frying fat, it is a sense of resignation and anger. Christa Kantor, 67, hands a customer at the bar a beer as she turns over a sausage.
In just a few days, a repeat of the run-off election for federal president will take place in Austria. The election is gaining international attention for it may answer the question of whether the international success of rightwing populism will continue: Brexit - Trump - Hofer? No one is in doubt here at "End of the Line." That's why no one here talks about the election. "They're all voting for Hofer anyway," says Kantor, in a croaking voice. The man at the bar nods.
Few undecided voters
According to polls, nine in ten Austrians have already made up their minds about who they will vote for on December 4: Rightwing nationalist Norbert Hofer from the Austrian Freedom Party (above right) or Alexander van der Bellen of the Green Party (above left), who is officially running as an independent. So far, polls indicate that it will once again be close - but they indicate no more than that.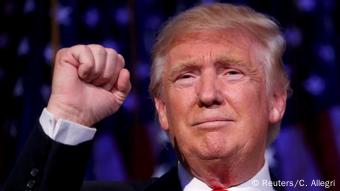 Donald Trump's victory in the US might sway voters in Austria to vote for Norbert Hofer
In the May 22 run-off election, Alexander van der Bellen had the advantage by about 30,000 votes. But the result became a historical footnote on July 1: too many and too obvious were the improprieties that took place during the vote count.
The Constitutional Court upheld a challenge from the Austrian Freedom Party (FPÖ) and annulled the election result.
Not only was the original date for a repeat election postponed, since then, the world has also lurched to the right of the political spectrum. And now Austria is asking itself: Will there be a Trump effect? And if so: who will benefit from it?
Parallels with the USA
Comparisons with the USA have been prevalent since November 9. And they are not unfounded, Salzburg University political scientist Reinhard Heinisch told Deutsche Welle. "As in the USA, one voting block - those supporting Hofer - are very emotionalized and know exactly why they are voting for him. On the other hand, many of those voting for van der Bellen are just voting against Hofer."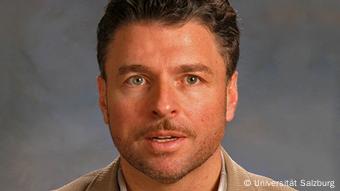 As in the US, voters in Austria are also fed up, says Prof. Reinhard Heinisch
The public opinion institute OGM has the numbers to back that statement: According to its survey, some 57 percent of Hofer voters are doing so because they are convinced about the candidate, only 39 percent of those voting for van der Bellen feel the same way about their candidate. Heinisch says that will make it difficult for van der Bellen to get people to the voting booth.
Heinisch lived in the USA for 13 years and rattles off a number of parallels: "The cry for change, and against the establishment - that's comparable. We see a similar split between urban and rural voters, between educated and non-educated voters, as well as between men and women." All that suggests an advantage for the rightwing populist. Of course there are also a lot of "forgotten men and women," as Trump calls them, in Austria, too. In areas where people are dissatisfied, they vote FPÖ. "The people are fed up," says Christa Kantor. "At least Hofer will fight for Austrians."
Status quo vs. anger
"The Austrians have a deep need for harmony," says political scientist Heinisch. "Brexit and Trump have brought about enough change in the world." That is exactly why 72-year-old van der Bellen is pushing a message of integrity and respectability. "In my opinion that is the only thing that van der Bellen has going for him. Overall, when the subject is immigration, Turkey, or criticism of the EU, things are easier for Hofer."
None of that bothers Barbara Neuroth, she is out campaigning for van der Bellen. And she is confident that he will be victorious in the repeat election. She says she has seen none of the voter apathy that the media is reporting on. It will be hard to top the 73 percent voter participation of the May run-off, "but people know what's at stake - especially after Trump."
New elections this spring?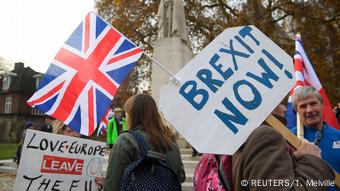 The UK's Brexit vote has also fueled anti-EU sentiments in Austria
Is that just the unconditional optimism of a woman who is politically active for the Greens on a local level, or a counter-narrative to the rightward shift that many see as having arrived in Austria?
For the last two years, the FPÖ has led the SPÖ (Social Democratic Party of Austria) and ÖVP (Austrian Peoples' Party) by large margins in weekly opinion polls, has been winning state elections, and is even in a governing coalition with the SPÖ in the Burgenland region.
The current SPÖ-ÖVP grand coalition in Austria is about as popular as German Chancellor Angela Merkel is in Bavaria's state government (not very). Heinisch says the only reason that it is holding is because both parties would do so poorly in new elections. But, "a President Hofer could hurt the FPÖ's chances of gaining the chancellorship," he notes. "Power demands control, if one party has both the presidency and the chancellorship."
Regardless of who wins on Sunday: Heinisch suspects party strategists will be checking in January just how tired Austrians are of voting - and then send them back to the polls for the next vote. "I think we'll have new elections this spring."