A motorcyclist was hurt when the overhead pedestrian bridge collapsed on Saturday. The man, believed to be in his 50s, was hospitalized with suspected broken ribs, the South East Coast Ambulance Service said. Medical officials reported his injuries were not life threatening.
Pictures from the scene showed parts of the footbridge still standing above the section of the M20 motorway in Kent. Works continued on Sunday to repair the structure and re-open the road.
Witnesses said a truck loaded with bulldozers and other construction equipment appeared to clip the overpass on the London-bound side of the road.
The collapse prompted authorities to shut down a section of one of the busiest roads in England, causing a massive traffic jam. The road connects the UK's capital with the port in Dover and the tunnel leading to France.
"The last weekend of August is traditionally busy for the Port of Dover and Eurotunnel as people return to the UK after spending the summer on the continent," Kent police said.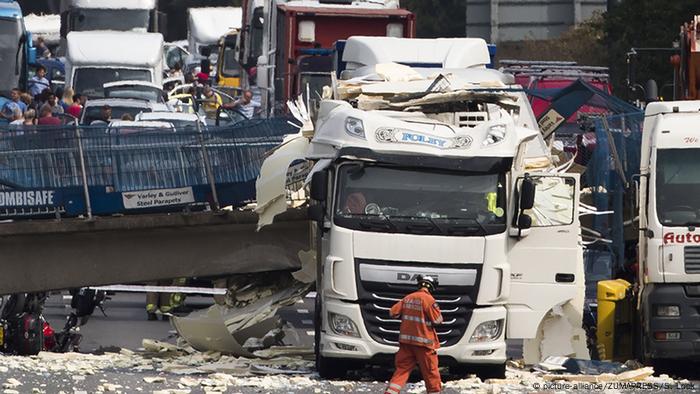 Both directions of the road were closed after the collapse
Other holiday makers were also heading to Europe for a long weekend, as Monday is a public holiday in England.
dj/jlw (AFP, AP, dpa)