Italian art and architectural innovation often seem more stuck in the past than the columns that hold up the 2,000 year old Colosseum. However, the MAXXI - a play on the words "museum of art" and the Roman numerals for the 21st century - is a newcomer that may just conquer Italy's obsession with the past.
Italy may represent the pinnacle in art and architecture, yet time seems to have stopped there when Michelangelo's David picked up that sling.
Modern artists and architects have taken a whipping. The buildings and boulevards built during the Fascist era in the 1920's and 1930's were dramatic, yet despised. More recently, American architect Richard Meier's Ara Pacis museum, which encases an ancient altar, has suffered tongue lashings from Italians who've nicknamed it the "gas station."
While Italy's neighbors have embraced modern art and architecture, Italy has been left in a cloud of its own Renaissance-era dust. Yet in 1998, Italy's culture ministry decided to shake things up, launching the MAXXI project.
"The idea was to ensure that Italy would also have modern art, that it wasn't always looking back to the art of the past," said Pio Baldi, the president of the foundation that operates MAXXI.
The former cultural director said Italy offers countless examples of artistic ingenuity from Rome's Colosseum and Trajan's Column to Giotto's frescos in Padua's Scrovegni Chapel. Yet he and his ministry colleagues began to "wonder what 400 years from now will be considered the country's cultural heritage."
"It isn't as if Italian creativity has dried up," Baldi added.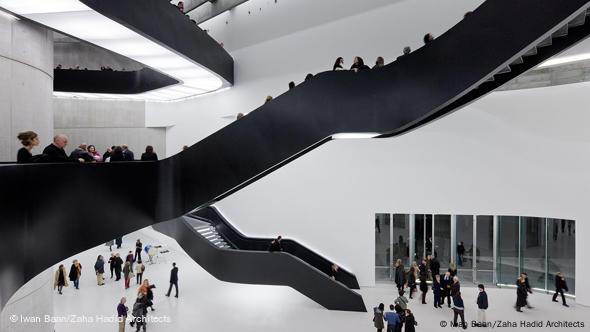 Hadid aimed to create a fluid space
'Art doesn't stop'
However, the national art budget had dwindled in the years since popes supported Michelangelo, Bernini and the other hotshot artists of bygone eras. Italy is home to 70 percent of the world's art, but funding is stretched thin and contemporary art acquisitions have not been a priority.
"There's no doubt that we began focusing on modern art late," said Anna Mattirolo, MAXXI's art curator. "There were some difficult years."
In the dozen years following the museum's approval, funding ebbed and flowed under three different mayors and the government turned over six times. Italy's legendary bureaucracy slowed construction and the plans had to be overhauled when Rome was declared a seismic area. Yet MAXXI has survived all the tremors.
"It's very important," said Mattirolo, "because culture doesn't stop. Art moves on, gets recognized and conserved and takes us into the future."
A renaissance of modern art
The Romans - who, in ancient times, revolutionized the use of concrete and created classical aqueducts - knew that they'd have to make a splash with MAXXI.
"Rome's arrived last on the international modern art scene," Mattirolo said. "It would've been a lost chance if this museum wasn't distinctly original."
To that end, the country of Old Masters selected a contemporary one to build the museum. Zaha Hadid, the Iraqi-born and London-based architect, was the first woman to win the prestigious Pritzker Architecture Prize. One of her earliest and most notable works was the fire station at the Vitra furniture headquarters in Weil am Rhein, Germany.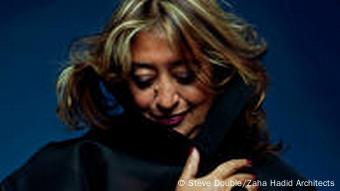 Zaha Hadid was the first woman to win the prestigious Pritzker Prize
For MAXXI, Hadid wanted to create a structure that was more than a container for art. She envisioned an "urban cultural center." The 150-million-euro ($150-million) project is located a tram ride away from Rome's historic center with its ancient ruins, cobblestone streets and countless Baroque churches. Built on the grounds of a former military barracks, the museum sits among residential homes from the early 20th century.
Rocking 'n' rolling in Rome
The stark, white museum constructed with the famous Roman concrete looks like a series of boxes stacked on top of each other. The walls curve and a part juts over the piazza below, an effect also used in the Hadid's design for the BMW factory in Leipzig, Germany.
The MAXXI's sleek modern exterior manages to reflect elements of the eternal city. Rome isn't just one city, but many built on top of each other spanning the epochs from Etruscan to Roman to medieval and beyond.
"The project emerges in its early phase of as many layers resting on each other," Hadid said in 2008. "The idea is to make a layered space or a layered city almost at once, as if learning from history and how the layering worked."
Inside, MAXXI flows like the nearby Tiber River. Steel black stairways bend in cavernous white spaces. Natural light streams from the glass ceiling, taking advantage of Rome's perennial sunshine. There are 29,000 square meters (312,000 square feet) of gallery space - indoors and outdoors. Hadid doesn't think a roof overhead was mandatory. For her art "campus," she foresees exhibits in the surrounding piazza and projections on the massive walls.
"It really is symbolic of a beginning, I think, in terms of our work of how to be able to create fluid space," said 59-year-old Hadid during a sneak preview of the building in November 2009.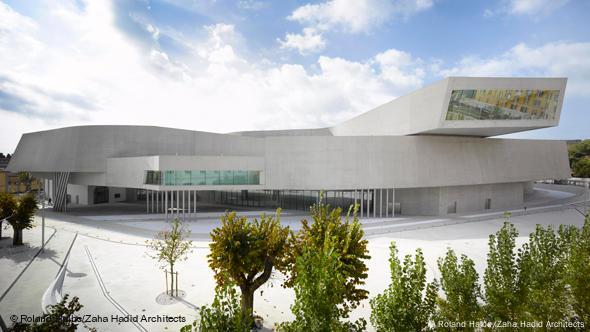 The building resembles a layered city
Designing outside the box
Walls that curve and unwind to become floors would make some art curators wish for a return to the traditional.
"This space is a challenge," curator Mattirolo admitted. "Above all, because it's a new space. There's no space quite like it.""
Room partitions can be hung from the roof beams, carving out smaller spaces, and art can also be suspended from the ceiling.
"It's an adventure that we have just started that's intense, no doubt," added Mattirolo. "But I believe that I can say it's also completely positive."
On May 30, the museum will open with exhibits that highlight the revolutionary building and give a preview of the museum's own collection. Since 2000, the museum has built up a relatively small collection of 300 pieces. A retrospective of the works of Fascist-era architect Luigi Moretti will also be displayed. Another exhibit will highlight the late, provocative Italian artist Gino De Dominicis, who often worked with skeletons.
Rome ready for something new
For most visitors, the MAXXI complex itself will be the attraction. The preview of MAXXI in late 2009 reassured the art community that Romans probably wouldn't lay siege to this newest landmark.
"They were very, very pleased," Pio Baldi said. "In fact, I was very much struck by the fact that people were walking around here smiling."
Hadid has said that she wants to create architecture that makes people feel comfortable - not a bad strategy in Italy, where few architects would want the masses to turn against them. The city of Rome has recently decided to tear down a wall of Richard Meier's reviled Ara Pacis museum. A few years ago, vandals doused the building with red and green paint and left a toilet and toilet paper at the base.
After 12 years, Hadid is satisfied with MAXXI. She realizes, however, that her avant-garde building may take some getting used to for Italians.
"I hope I'll come back regularly to visit to make sure they have not done anything odd," said Hadid with a warning. "I'm watching, ok?"
Author: Nancy Greenleese
Editor: Kate Bowen