Since word went around that the future English princess, Meghan Markle, might have German roots on her father's side, some people in Germany have been eager to trumpet her genealogical history.
"I think we are still very Anglophile in Germany, although Brexit was a traumatic experience for us," says historian Karina Rubach in relation to the royal buzz in Germany. "The Royals are now the most famous immigrant family from Hanover and Coburg," she adds. Prince Harry's great-great-great-grandfather was from the House of Saxe-Coburg and Gotha, a German dynasty.
But although Prince Harry's ancestral links to Germany are well documented, his future bride's German roots have proven more difficult to trace.
Read more: Why did Meghan Markle become an Anglican?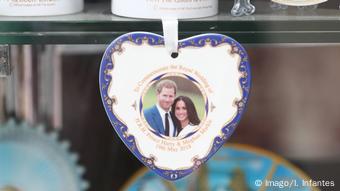 Royal wedding fever in Windsor
Searching for Markle's ancestors
Meghan Markle's father Thomas Markle's lineage has been linked to Germany and Switzerland. Last year, Bunte magazine claimed that a Johann Markel left his home town of Offenburg in Baden-Württemberg in the late 18th century and moved to Pennsylvania.
However, a new DW investigation has revealed that Markle's ancestors might have actually come from Lampertsloch, a small commune in France, situated close to the German border.
The process of tracing Markle's roots is not straightforward. DW reporter Hendrik Welling's journey took him from the records of the New England Historic Genealogical Society to the regional archives in Strasbourg. His research uncovered evidence linking Markle's ancestors to the area of Lampertsloch. According to records, her forefather Heinrich Martin Merckel emigrated to the US and later changed the spelling of his name.
Despite uncovering a possible ancestral line, Welling said it would still take "years of further research" to confirm it definitively.

Markle's African roots
German roots aside, the discussion in Great Britain has been primarily focused on Markle's African heritage. The ancestors of her mother, Doria Ragland, came from Africa and were reportedly slaves on cotton plantations.

In another twist, Markle might even have noble roots herself. Genealogist Gary Boyd Roberts of the New England Historic Genealogical Society in Boston says Markle descended from King Edward III, who ruled Wales and England in the Middle Ages. According to Roberts, this would make her Prince Harry's 17th cousin.
nf/pj/sh (with dpa)