During a visit to Strasbourg on Saturday, Interior Minister Bernard Cazeneuve said the border controls, which took effect on November 13, had led prevented hundreds from entering France "because of the risk these people could represent for public order and security in our country."
He said nearly 15,000 police and security personnel had now been deployed to the borders to enforce the controls, which were first put in place to ensure security at COP21 climate talks scheduled to begin Monday in Paris.
Just hours after the stepped-up controls were introduced on November 13, extremists carried out attacks at various sites in Paris, killing 130 people and injuring more than 350 others.
The French government declared a state of emergency following the attacks, saying it would keep the enhanced border security measures in place as long as the terrorist threat stayed high. The state of emergency provides police with a freer mandate for searches and imposing house arrest and gives the state broader judicial authority.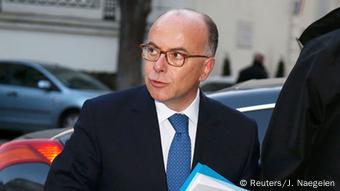 Cazeneuve said all necessary arrests would be made
Earlier this week, Cazeneuve said authorities had charged 124 people and conducted 1,233 searches since the state of emergency was introduced.
More than 40,000 peole are expected to attend the international climate conference amid heightened security measures following the Paris attacks.
tj/mkg (dpa, AFP)