For Germans, enjoying a hot mug of mulled wine at a Christmas market is just as crucial to the holidays as a Christmas tree and mistletoe.
However, given Germany's prominence as a country of beer drinkers and brewers, it's no surprise that there is a hopped and bottled version of holiday spirit as well.
A number of German breweries make special holiday brews - known as Christmas or winter beers - with limited availability. Im Füchschen, a local brewery in Düsseldorf, is one that takes part in the tradition. Füchschen's head brewer, Frank Driewer, says his brewery has been making some form of a holiday brew for a long time.
"Years ago, the former brewer would make a special batch just for Christmas, but it wasn't called Christmas beer." Driewer said. "It was simply the same beer brewed a little stronger."
A grainy balance
Driewer knew he could take the process a step further, and about twenty years ago, set about making a true Christmas beer. Now, Driewer looks forward every year to the Christmas beer's limited run. It makes up just around 1 percent of Füchschen's total production, and is available only in bottles starting in early November. Christmas Eve is the last day for the Christmas beer, and is also the only day it is available on tap at the brewery. After that, it's back to Füchschen's standard brew, an Alt beer.
The Alt is made using five different malt grains. The Christmas beer sets itself apart from the Alt by utilizing a different blend of malt grains in the brewing process.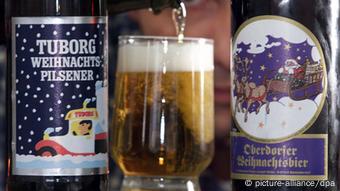 Christmas beer gets its flavor from a special malt blend
When tasted on their own, the unprocessed grains used in Füchschen's Christmas beer deliver strong flavors; some sweet, some bitter, with hints of chocolate or cocoa in others. These flavors are more subtly detected in the tastes and aromas of the finished beer.
Part of the appeal of the Christmas beer, says Driewer, is also its ruby-red color, which is achieved by amber- and reddish-hued malt grains.
The end result is a beer that is slightly heavier than one of Füchschen's Alt beers, and also has a stronger alcohol content - 5.4 percent by volume rather than 4.7 percent. This lends itself to more tempered drinking, one of the beauties of a Christmas beer.
"A Christmas beer is meant to be enjoyed and appreciated just a little more than a normal beer," said Driewer. "The color, intensive aromas, and stronger taste make it a beer that isn't meant to simply be thrown back. It's one you can enjoy and use to unwind."
A hoppy glow
While Christmas beers are meant to create a warm feeling inside, this is more along the lines of cozying up to the fire while the frosty weather sets in outside.
For actually being out in the frosty weather, though, a cold brew doesn't exactly hit the spot. That's a job for Glühwein: the hot, mulled wine available at the Christmas markets creates a 'Glüh,' or glow, to help battle the elements.
Beer drinkers, though, have found a way to get their Glüh on and enjoy a hoppy Christmas at the same time in the form of Glühbier.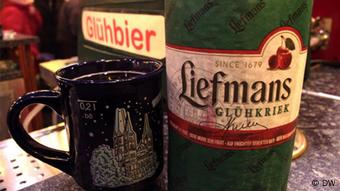 Barth gets her Glühbier from Belgium
Ms. Barth runs her family's stand at the Bonn Christmas market. It is simply known as 'the stand next to the post office,' and is the only spot in town to find the piping-hot Glühbier.
"It is quite fruity and actually leans a little more toward a Glühwein rather than a beer," Barth said.
The fruits and spices found in Glühbier are one of the biggest reasons it is so hard to find in Germany. Technically, German brewers can't even make it. They adhere to the German Beer Purity Law, which states beer may only consist of malt, hops, yeast, and water.
Taking a cue from the Belgians
Belgium, however, does not have this law, and is free to produce products such as Glühkriek, from the Liefmans brewery, which is what Barth sells at her stand.
The label of the Glühkriek says it is "a beer flavored with cherries and spices," with instructions that it should be served at 70 degrees Celsius (158 degrees Fahrenheit). This is in contrast to Liefmans normal Kriek - brewed with the cherries but without the spices - which is often served on ice.
The natural sugar in the cherries gives the Glühbier a sweet taste. The spices contribute some of the same flavors that are found in a German Christmas beer, although a German brewer achieves this taste through varying malt and hop combinations rather than adding spices that would violate the purity law.
The Heidelberger brewery, however, has found a way around this and offers its customers a simple recipe for Glühbier on its website. The beer itself is a traditional Christmas beer brewed in accordance to the purity law, but the law doesn't prohibit customers from heating a liter of the Christmas beer and then adding eight tablespoons of sugar, two teaspoons of lemon juice, two pinches of cinnamon and six pinches of ginger after they've purchased it.
The future is frothy
Barth says she's seen the demand for Glühbier steadily rise each of the four years she's been selling it at her stand. So far, she remains a trend-setter in Bonn with the Glühbier, but she was ahead of the curve in introducing egg nog to the Christmas market 20 years ago, and would like to see the same thing happen to Glühbier.
"Maybe in ten or fifteen years the same thing will happen with Glühbier," she said, "but you have to start somewhere."
If that happens, Glühwein may have some foamy competition from Glühbier - especially if Christmas market stand operators like Barth take up Heidelberger's initiative and make their own.
Until then, beer drinkers in Germany can rest assured that a slowly-sipped Christmas beer can warm weary winter bones even on the coldest of holiday evenings.
Author: Matt Zuvela
Editor: Andreas Illmer