Some have called her a woman of steel. Others say she is the voice of the voiceless. As the public protector, Thuli Madonsela has worked tirelessly to protect the public from corruption and incompetence by government institutions and officials. Now she has been awarded the German Africa Foundation's annual prize for exceptional contributions to promoting peace, democracy and human rights.
Her work has already earned her respect from renowned South Africans. Professor Njabulo Ndebele, chairman of the Nelson Mandela Foundation, an organization established by the late president, praised Madonsela for her commitment to the role of public protector.
"The efforts of her office have upheld the constitution as the supreme law, and ensured that nobody is, nor should be, above the law," he told DW.
Tough on corruption
Madonsela, a 53 year-old mother of two, was appointed public protector by President Jacob Zuma in 2009. Her term in office comes to an end later this year. It's a job established by the constitution to investigate misconduct in state affairs and operates independently of the government. Since her appointment, Madonsela has demanded equal accountability from both the weak and the most powerful. Among her more courageous acts was demanding that President Zuma pay back part of the public funds used for renovating his private home.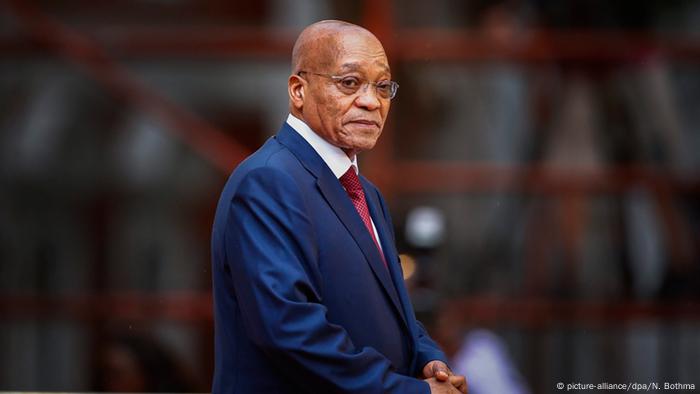 President Jacob Zuma used public funds to pay for upgrades to his residence including a swimming pool and amphitheater.
In 2011, she accused the South African Police Service of corruption after discovering that the force was leasing police buildings from a company at inflated prices. This cost then National Police Commissioner Bheki Cele his job. The former leader of the militant opposition party Economic Freedom Fighters (EFF), Julius Malema, was not spared either. A public protector's office investigation found that his family trust had benefited unduly from a tender given to his friends. And the chairperson of the Independent Electoral Commission, Pansy Tlakula, had to resign in 2009 after Madonsela found that she had flouted procurement regulations.
Inspired by history
Most South Africans agree that she has done an excellent job and the German Africa Prize marks growing international respect for her work.
"As the public protector, she has proven herself as a staunch defender of this country's constitutional values," said Wolf Krug, regional representative for Southern Africa at the Hanns Seidel Foundation, a German non-governmental organization with a presence in up to fifty countries.
"With her unwavering commitment to her position, she shows that South Africa's democracy is very much alive," Krug told DW.
Madonsela said that her strong sense of integrity was inspired by the late Nelson Mandela, who battled gross injustice.
"He turned that social injustice against him into a cause for social justice for all. Our entire constitution was born out of that spirit of people who suffered social injustice and thought that they will do something about it," she said.
Demonstrators in Capetown march at an anti-corruption protest in September 2015.
Harsh criticism, strong support
However, Madonsela's hard work has stepped on many toes and not everyone is happy. Some in the ruling African National Congress (ANC) have called her a CIA agent, while the party's youth have called her a clumsy clown and pseudo politician.
But her credentials are proving her critics wrong. Her list of awards include being named the South African Person of the Year in 2011 by both news network ANN7 and the online newspaper the Daily Maverick, being listed as one of TIME magazine's top 100 most influential people in the world in 2014, and in the same year being named Woman of Courage in Glamour magazine's Woman of the Year awards. She also won Transparency International's presitigious Integrity Award in 2014.
Madonsela's fearless performance has also earned her direct threats on her life. She recently received a tip that hitmen are being contracted to kill her. But this has not broken Madonsela's spirit and has added to her status amongst many South Africans who say that there is no doubt that Madonsela's latest award is a deserved prize for a job well done