Native American groups marched through Washington DC on Friday to voice their outrage at US President Donald Trump's decision to press ahead with the construction of the Dakota Access and Keystone XL oil pipelines.
The march follows almost a year of protests led by the Standing Rock Sioux tribe in a remote area of North Dakota, where the Dakota Access Pipeline (DAPL) will cross upstream from tribal lands.
Protesters clad in traditional Native American dress rallied in a park across from the White House, lifting signs reading "Native Lives Matter," "Water is Life" and "Protect the Water."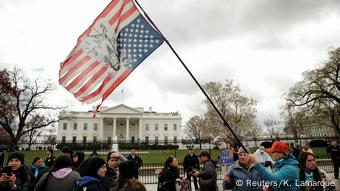 Demonstrators have voiced fears that any potential oil spills from the DAPL could contaminate the Missouri River and the Lake Oahe reservoir, key drinking water resources that supply the surrounding indigenous lands.
"The government is violating our public right to clean water," Sarah Jumping Eagle, a member of the Oglala Lakota tribe, said. "People are tired of the government not listening to us and not listening to the word of the people. They are supposed to represent us and not corporations."
"We face a lot of obstacles," David Archambault, chairman of the Standing Rock Sioux tribe, told rally-goers. "But we are not defeated. We are not going to be the victims. Together we can rise."
Friday's march caps a week of workshops and cultural events in the capital intended to highlight the Standing Rock tribe's cause and express unity among indigenous tribes.
Trump's pipeline order
One of Trump's first actions as president was signing an executive order reviving construction of the Dakota Access and Keystone XL pipelines, both of which had been put on hold by the Obama administration.
The DAPL is expected to transport more than 500,000 barrels of crude oil per day and planned to become fully operational by this month, according to the company handling the $3.8 billion (3.6 billion euros) construction project. Meanwhile, the Keystone pipeline will pump crude oil from Canada to the US.
Last month, Standing Rock demonstrators in North Dakota were forced to leave their protest camp after the DAPL's construction was cleared to go ahead again. The tribe also lost a subsequent legal battle that aimed to halt its construction.
dm/se (AP, AFP)