Schaaf and Bremen agreed to mutually part ways on Wednesday, the club announced on their website. The lifelong Bremen man was the Bundesliga's longest serving coach.
The 52-year-old steps down with one game remaining in the season, against Nuremberg on Saturday. Assistant coaches Wolfgang Rolff and Matthias Hönerbach will take charge of the team for the remainder of the campaign.
"We have, as announced, analyzed our sporting development over the past few days and come to the decision that we want a fresh start," the club's sports director Thomas Eichin, said in a statement. "We thank Thomas for all that he has brought to the club in his more than 40 years as a player and coach for Werder Bremen. With him the club can celebrate the outstanding sporting achievements he shaped."
"However, after avoiding relegation we have come to the mutual decision that an amicable separation is the best thing for a new start," Eichin added.
One club man
For more than a decade Schaaf was a fixture of Werder Bremen's touchline. His first – and to date only – Bundesliga head coaching job began in the northern city 14 years ago.
During Schaaf's time as head coach, Bremen were consistently one of the Bundesliga's most competitive teams. Until this season the club finished outside the top ten just once with him at the helm. The undoubted highlight of Schaaf's tenure came in 2004, when he guided Bremen to a league and cup double.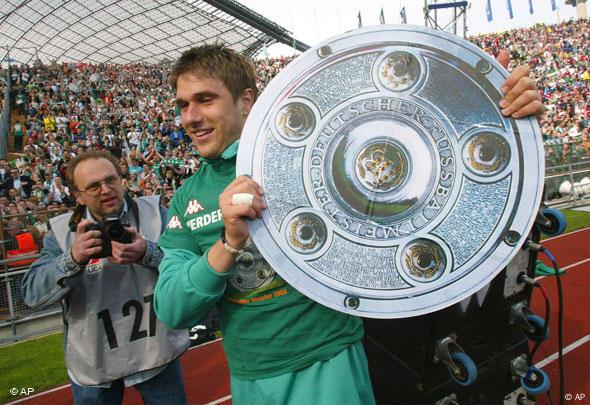 Under Schaaf, Ivan Klasnic and company fired Bremen to the 2004 league title
In addition to the double, Schaaf led Bremen to German Cup wins in 1999 and 2009. He also won the now-defunct German League Cup in 2006 and achieved runners-up finishes in the Bundesliga in 2006 and 2008, and the German Cup in 2000 and 2010. Bremen's best finish in Europe during Schaaf's reign was a trip to the UEFA Cup Final in 2009.
Schaaf first joined Bremen as a youth player in 1972. He went on to play almost 300 league matches for the club, winning two league titles, two German Cups and the European Cup Winners Cup before retiring in 1995. He then served as a youth and reserve team coach for Bremen before replacing Felix Magath as head coach in early May 1999.
"I had an extraordinary time here, connected with many positive experiences and great successes," Schaaf said. "I would like to thank everyone who accompanied me and supported me on this journey. I wish Werder Bremen a successful future."
Tough final campaign
The 2012-13 season has been quite different than the successes fans have been used to under Schaaf. Losing longtime players like Claudio Pizarro, Naldo and Tim Wiese gave the club a new, younger look. That inexperience, however, has troubled Bremen all season, with the side conceding 64 goals in the league – more than any other side save for the woeful Hoffenheim.
Things began poorly in Schaaf's final year, opening the season with a German Cup loss to third-tier Preussen Münster. A string of mediocre results saw the club finish the first half the campaign in 12th. But sitting ten points clear of the relegation playoff spot, the threat of second tier football didn't seem to be looming in Bremen.
It was after the winter break, however, that fortunes changed. Since January, Bremen have won just twice, with both victories coming in early February. The club now sit 14th and only secured Bundesliga survival with a May 11 draw against Eintracht Frankfurt.
In fact during the second half of the season, Bremen have collected as many points (12) as Greuther Fürth, who were relegated in April. Fürth made history this year by becoming the only team in the Bundesliga's five decades to go an entire season without recording a home win.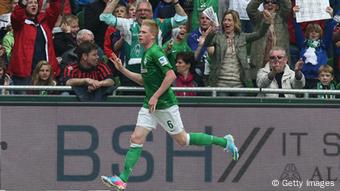 De Bruyne has been a bright spot for Bremen this season, but will he stick around?
On the personnel side, there hasn't been much more reason for optimism. Players like Eljero Elia and Marko Arnautovic, while occasionally showing signs of their heralded talent, have proven to be headaches off the field. Last month both were suspended for the rest of the season after being caught speeding in separate cars on a German motorway.
Even two of the team's bright spots – loan signings Nils Peterson and Kevin De Bruyne – look unlikely to be with the team next season. Peterson is the property of Bayern Munich, while the Chelsea-owned De Bruyne has said that if he does remain in the Bundesliga next year, he wants to play with a bigger team – Bayer Leverkusen and possibly Borussia Dortmund are the rumored destinations.