In November 2005, newly elected German Chancellor Angela Merkel brought Thomas de Maiziere from state politics to the national level. As head of the German Chancellery, de Maiziere's chief responsibility was to ensure the smooth execution of daily government work. Appointed German interior minister in 2009, he developed a reputation as a quiet and loyal worker, the one who tended to remain in the background. In 2011, he took over the defense minister post when Karl-Theodor zu Guttenberg had to step down in a plagiarism scandal.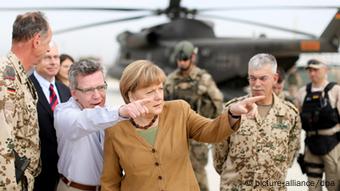 De Maiziere visited troops in Afghanistan with and without Chancellor Angela Merkel
De Maiziere also became known as "Merkel's best man" and as a talented politician with potential for higher office. It wasn't just political pundits in Berlin who saw him as a possible successor to Merkel. The German public appreciated him, the man of many wrinkles with an edge to his voice, and opinion polls showed a steady rise in popularity. One poll from the Infratest Dimap institute in Berlin placed him third among German politicians, behind only Merkel herself and Finance Minister Wolfgang Schäuble.
All that changed in 2013, when outrage over the cancellation of a surveillance drone project nearly cost him his credibility - and his job. In June, only 40 percent of Germans were "satisfied" with the defense minister's performance. But he resisted calls for his resignation - and kept Merkel's backing, even when advisers told her to drop him ahead of November's general election.
A powerful family
Thomas de Maiziere's family spans both West and East Germany. He was born in Bonn, the capital of former West Germany, in 1954, the last of four children. His Huguenot forefathers fled religious persecution in France, resettling in Brandenburg, the region surrounding Berlin. His father, Ulrich de Maiziere, was an officer in the Wehrmacht during the Second World War. By the war's end in 1945, he had become a member of the Supreme High Command of the German Army. He continued his military career thereafter, advancing in 1966 to become General Inspector of West Germany's newly founded Bundeswehr.
Ulrich's youngest son, meanwhile, was working his way toward graduating from a Catholic prep-school in Bonn. Thereafter Thomas de Maiziere joined a mechanized infantry battalion. By 1977 he had become a senior lieutenant in the reserve forces. After his military service, de Maiziere studied law in the cities of Freiburg and Münster, graduating with a Ph.D. in 1986.
Entry into politics
For Thomas de Maiziere, the fall of the Berlin Wall on November 9, 1989 also marked his entry into politics and the reunification of his family. His cousin, Lothar de Maiziere, served as the only democratically elected prime minister of East Germany, holding that position over a period of approximately six months, from April 1990 until the reunification of East and West Germany on October 3 that year.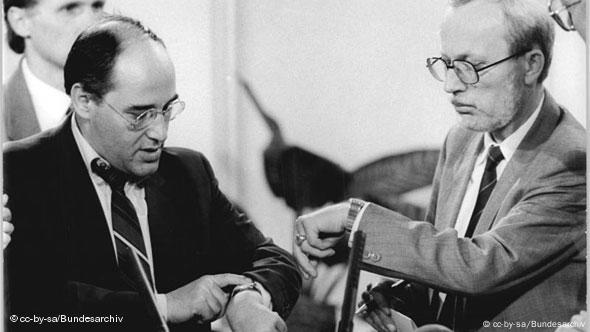 Lothar de Maiziere (right) counts the seconds until East German elections
Thomas de Maiziere worked under his cousin in 1990 as an adviser to the East German government. During that time he also became acquainted with Angela Merkel, a chemist who had joined an East German opposition party known as Democratic Awakening, which later merged with Germany's Christian Democratic Union (CDU).
Throughout the 1990s, de Maiziere gained experience, both as an employee under Berlin's mayor, Eberhard Dipegen, and as a CDU spokesman in Berlin's state parliament. In 1999, he heeded the call of Saxony's Premier Kurt Biedenkopf to move to the state capital of Dresden. There he became the director of the state chancellery, later becoming minister of various state departments.
Berlin beckons
When he returned to Berlin in 2005, de Maiziere quickly developed a reputation as a knowledgeable and clever member of Merkel's chancellery as well as a political heavyweight, albeit one who remained in the background. If not exactly charismatic, he enjoyed an excellent reputation among political allies, opponents and Berlin journalists alike. When he took over the position of defense minister after Karl-Theodor zu Guttenberg's resignation in 2011, many trusted him to bring a fitting end to the restructuring of Germany's armed forces and of the Defense Ministry itself.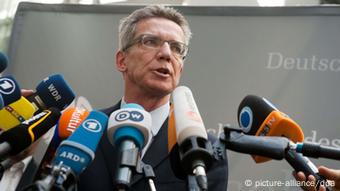 The Euro Hawk controversy threatened to end de Maiziere's political career
That reputation developed its first cracks in February 2012, when, during an interview, de Maiziere accused the armed forces of being "addicted to recognition." He later apologized for that choice of words.
But changes to the military, the closure of bases and reductions within the Defense Ministry led to unease amongst troops and civil servants. A representative of the ministry's employees said the mood has never been as low as it is right now.
On May 14 2013, Thomas de Maiziere announced that the 600 million euro (800 million dollar) Euro Hawk surveillance drone project would be wound up. That announcement sparked a firestorm, the opposition called for de Maiziere to step down.
The future
But the outrage proved short-lived. A couple of high officials in the defense ministry took the blame and the fall for the disaster. They said they had made major decisions, not informing de Maiziere until the very last minute. That earned him the nickname "Minister Clueless" in the German media.
The entire issue, however, was virtually non-existent during the federal elections in September 2013. When it became clear that a grand coalition government of Merkel's CDU and the Social Democrats (SPD) would come to pass, initial rumors were that Thomas de Maiziere would keep his post as defense minister. Those had to be revised after the official cabinet announcement: Ursula von der Leyen (CDU) will become Germany's new defense minister, while de Maiziere will be returning to his old job of interior minister. Angela Merkel has managed to keep her "best man" a part of her new cabinet.