DW: Forty-nine soldiers were killed when a military plane was shot down as it attempted to land at the airport in Luhansk. Has the conflict escalated to a new level?
Kyryl Savin: I think so. This is the biggest misfortune in the Ukraine government's anti-terrorist operation. On the one hand, there is, of course, grief over the tragic deaths of the soldiers, especially among family members. At the same time, there's also growing anger aimed at the government, the president, and those responsible, who have allowed something like this to happen. Because everyone is wondering: how could a military aircraft land at an airport that wasn't secure?
Would you call these events part of a war?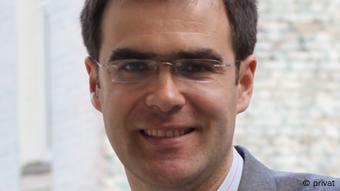 Ukraine's government is likely to crack down harder on separatists, Savin said
That has been the case in my opinion for the past few weeks, essentially since Russian tanks crossed the Ukrainian border. Although Russia still won't admit that it's involved in this war, we are talking about volunteers and about "self-defense in the Donbas." But honestly, we've been dealing with Russian weapons for some time. These tanks don't just suddenly appear on the street so that they can be used against the Ukrainian military. I'm convinced that it is a war, and the next thing we'll see is likely to be a major battle for the city of Luhansk.
Apparently ground-to-air missiles have been used. Does that confirm suspicions that Russian President Vladimir Putin is supplying the separatists with weapons on a large scale?
In my view that's absolutely obvious. It's also not the first time this kind of thing has happened. Just a few weeks ago in eastern Ukraine, a military helicopter was shot down using the same missiles. These are advanced weapons that can't simply be bought anywhere on the market, not even on the Russian black market. Every expert knows that. They should just stop with the lies and speak plainly: This is a war, and Russia is a party in this military conflict.
The attack constitutes a major setback for the Ukraine government's so-called "anti-terrorist operation." Does the difficult security situation in the Luhansk region put the operation at risk, or could current events give the government grounds to proceed with more force in eastern Ukraine?
I think that the military will now come down much harder on the separatists. There is a lot of anger among the public. People are wondering why the newly elected President Petro Poroshenko isn't doing anything, either to bring about negotiations and peace, or to move with force and take quick decisive action. So far neither has happened.
That's why I think it's virtually impossible to hold more negotiations right now. It's more likely the government will launch military action. Especially in Luhansk and Mariupol, where there is lots of movement at the moment, and of course in Slovyansk, the military will now also use heavy weapons and a large military contingent to try and retake occupied cities and towns.
Kyryl Savin heads the Heinrich Böll Foundation office in Kyiv. He previously worked for the German Advisory Group at the Economic Institute for Economic Research and Policy Consulting in Kyiv. From 2003 to 2007 he worked in the politics department of the German Embassy in Kyiv. Savin studied international relations at the Taras Shevchenko National University of Kyiv.