North Korea is believed to have enough material for some ten nuclear warheads, the Stockholm International Peace Research Institute (SIPRI) said in a new report on Monday.
The experts, however, said it was unclear if Pyongyang had produced operational weapons.
According to the SIPRI estimate, almost 15,400 nuclear weapons were under the control of nine countries as of January this year. This marks a drop of over 450 warheads compared to last year.
"However, the pace of their reductions appears to be slowing compared with a decade ago," SIPRI said, adding that there were no new control agreements between heavyweights Russia and the US.
Nuclear arms control "is coming to the end of the road," researcher Shannon Kile told German news agency dpa.
France has bigger arsenal than China
Moscow controls around 7,300 of the world's nuclear weapons, putting it slightly ahead of the Washington's 7,000. Together, the former Cold War rivals hold around 93 percent of the global nuclear arsenal.
Both Washington and Moscow have "extensive and expensive nuclear modernization programs under way," SIPRI said. The US was planning to spend $348 billion (309 billion euros) before 2024 on upgrading its arsenal and delivery systems including submarines and planes. Some estimates say the cost might reach $1 trillion over the next thirty years.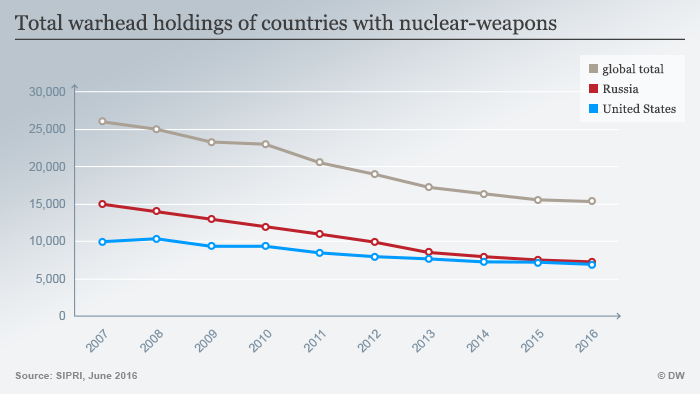 The American and Russian arsenals are way ahead of the other seven nuclear states. SIPRI ranked France as third with 300 nukes, ahead of China's 260. India, Pakistan, and Israel are also on the list. Officially, Israel maintains a policy of nuclear ambiguity, meaning its officials neither confirm nor deny having nuclear weapons.
Last place was reserved for North Korea with ten nukes, although SIPRI admitted that it was unable to verify their estimate.
'Gloomy' future outlook
India, Pakistan, and China are all continuing their nuclear build-up, the Stockholm-based monitor said.
Out of the world's total nuclear weapons, over 4,100 warheads were "deployed" - meaning they were placed on missiles or located on bases with operational forces.
The report described the outlook on nuclear disarmament as "gloomy" since none of the nuclear powers are prepared to give up their arsenals.
At the same time, experts noted that measures taken by the US and Russia to cut their inventories have contributed to the decline of nuclear weapons, which peaked during the Cold War at nearly 70,000 warheads.