Democratic Unionists (DUP) from Northern Ireland holding 10 key seats in Britain's Westminster parliament withheld support Sunday, prompting Prime Minister Theresa May's office to retract its previous claim that an "outline" coalition deal had already been agreed.
DUP leader Arlene Foster said she would meet May on Tuesday while Downing Street said the incumbent premier would "finalize" a deal in the coming week.
Incumbent British defense minister Michael Fallon said a deal would not amount to a formal coalition, but only the DUP supporting May on "big things." Brexit, he said, would amount to a "new partnership with Europe."
"We are going to see, I hope, more collective decision-making in the cabinet. I and other senior colleagues have made that clear to her," Fallon said of May and her team.
Dublin nervous
The uncertainty prompted Irish republic premier Enda Kenny to phone May Sunday, warning that "nothing should happen" to put at risk divided Ireland's 1998 Good Friday peace agreement, according to his office.
May had spoken with German Chancellor Angela Merkel by phone on Saturday, insisting that Britain was ready to start Brexit talks "as planned in the next couple of weeks, according to Downing Street.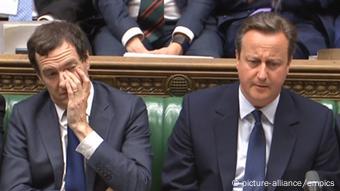 Better days? Osborne alongside Cameron in June, 2016
May's conservatives were reduced to 318 seats - eight short of an outright majority - in last Thursday's snap election that saw a surge in votes for the opposition Labour party, especially by young adults who skipped last year's Brexit referendum.
Cabinet reshuffle continues
On Sunday, May reshuffled a few names in her cabinet but largely kept her top team of ministers.
She brought Brexit campaigner and party rival Michael Gove back into the cabinet as agriculture minister. He was sacked last year after he made a bid for the party leadership.
"What I'm doing now is actually getting on with the immediate job. And I think that's what's important, I think that's what the public would expect. They want to see government providing that certainty and stability," May said on Sunday.
"What I've done today is see people from across the party accepting the invitation to be in my cabinet, and crucially I've brought in talent from across the whole of the Conservative Party. I believe that's important."
'Tripe,' says Johnson
Foreign Secretary Boris Johnson rejected Mail on Sunday newspaper speculation that he planned to oust May, tweeting that this was "tripe" and that May should be left to "get on with the job."
In an interview with Sky News, Johnson stood by the prime minister, saying: "I am going to be backing her, and absolutely everybody I'm talking to is going to be backing her too."
Former Finance Minister George Osborne, a rival who was sidelined by May last year when she took over from David Cameron, told the BBC: "Theresa May is a dead woman walking. It's just how long she's going to remain on death row."
Corbyn predicts fresh election
Jeremy Corbyn, whose Labour party won 262 seats, on Sunday predicted a fresh election within months, saying his side would seek to block May in a Queen's Speech debate when parliament re-opened next week.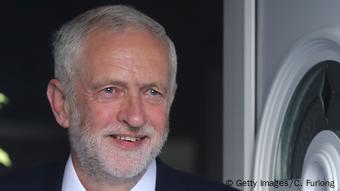 Corbyn expects fresh elections within months
"I don't think Theresa May and this government have any credibility," Corbyn said. "It is quite possible there will be an election later this year or early next year," he told the Sunday Mirror newspaper.
"I'm ready for another general election," Corbyn added.
Timeline doubts for Brexit talks
London's disarray cast further doubt over the two-year timeline for its complex talks with the EU on implementing last year's narrow British referendum decision.
Anna Soubry, a parliamentary Conservative who campaigned last year to stay in the EU, said: "I don't think she does have a majority in the House of Commons for leaving the single market."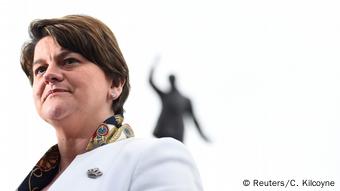 DUP's Foster is to visit May on Thursday
"I just can't see how she can continue in any long-term way," Soubry said.
DUP's views rejected
The DUP's ultra-conservative views on gay marriage and abortion prompted expressions of concern from Scottish Conservative leader Ruth Davidson and a petition signed by more than 700,000 people by Sunday night, objecting to May's "desperate attempt to stay in power."
Late on Saturday, May appointed a new chief of staff, former housing minister Gavin Barwell who lost his parliamentary seat in last Thursday's election.
rs/jm (Reuters, AFP, AP)