Operational failures, communication issues, slow reactions and missed clues have all come to light in the days since Brussels' airport and subway attacks. Even at this early stage, the shortcomings have prompted severe domestic and international criticism, as well as changes to Belgian law.
Turkey's warning and El Bakraoui's parole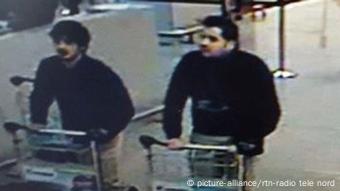 The El Bakraoui brothers were on multiple intelligence and police agencies' radars
Brussels bomber Ibrahim El Bakraoui had a criminal record, convicted in 2010 for an armed robbery in which he shot a Belgian police officer when trying to escape. A day after the attacks, Turkish President Recep Tayyip Erdogan said that he could have been behind bars last Tuesday.
Turkey deported El Bakraoui on July 14, 2015, having captured him on the border with Syria. Ankara informed both Belgian and Dutch authorities after El Bakraoui requested that he be sent to Amsterdam - later returning home to Brussels by land. The formal deportation note has since been leaked by the Dutch, although any substantive intelligence information would have been communicated separately.
This was not his only violation of the terms of his early release from custody. He had also stopped paying damages to the police officer he injured. His brother, Khalid, was arrested in possession of an assault rifle and convicted in 2011 of carjacking.
Dutch Justice Minister Ard van der Steur also said this week that US investigators had told the Netherlands about the El Bakraoui brothers' terrorist background a week before the attacks. At first, the minister attributed to the tip to the FBI, on Wednesday correcting this information in a letter to the Dutch lower house of parliament, saying it was, in fact, New York's NYPD intelligence unit that provided the information. Van der Steur said the issue was raised the next day in talks with Belgian authorities, a claim disputed by Belgian federal police.
The 'war' between Belgian police
Bilingual Belgium's decentralized policing practices have become world-renowned in the week since the bombings. In the months searching for Salah Abdeslam, thought to be the sole surviving Paris attacker, one key lead seems to have been overlooked north of Brussels, in Mechelen.
In December 2015, police there received a tip about a possible accomplice to Abdeslam, Abid Aberkat. On March 18, Abdeslam and Aberkat were arrested at a Brussels flat registered to Aberkat's mother, an address known to at least one Belgian law enforcement agency for months.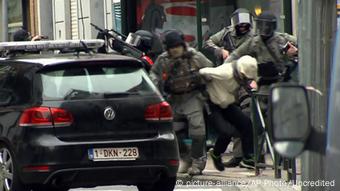 Abdeslam's March 18 arrest seemingly accelerated the Brussels cell's plans
Police in Mechelen said the source of their information was not considered reliable, but acknowledged that a mistake had been made. The leader of the opposition in Belgium's parliament, however, said the communication failure was attributable to a "war" between the country's local and national policing agencies.
Critics also allege that Abdeslam should have been more intensively questioned immediately after his capture. In the four days between the raid and the Brussels bombs, Abdeslam was only formally interrogated for one hour - primarily about November's attacks in Paris. At least according to his lawyer, Abdeslam has become much more tight-lipped since March 22.
The Schaerbeek flat that wasn't searched
Brothers Khalid and Ibrahim El Bakraoui, along with presumed bomb-maker Najim Laachraoui, built their bombs at the corner house Rue Max Roos 4 in the Schaerbeek district. Apart from their top-floor flat, the building was empty, being renovated after a change of ownership. On searching the flat, after the attacks, investigators found fuses, 15 kilos of prepared explosives, not to mention more bomb-making materials suggesting that the trio had further attacks in mind.
A neighbor later said he had informed police of suspicious activity in the flat. According to the building's new owner, police followed up on this tip, but never actually searched the building.
One key Belgian law has been changed in the immediate aftermath of the attacks. House raids are now permitted between 9 p.m. in the evenings and 5 a.m. in the mornings.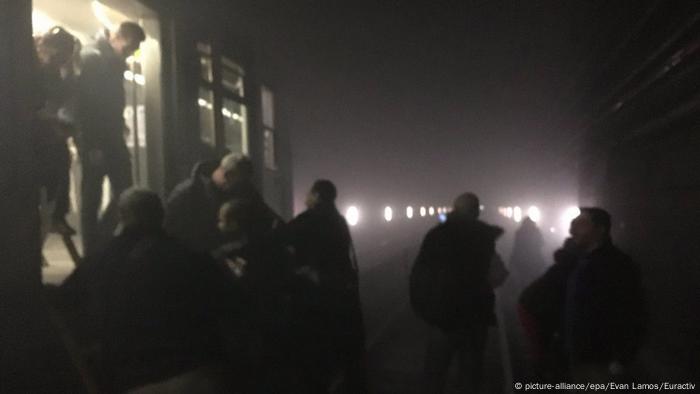 Might the subways have been cleared in time to nullify the Maelbeek blast?
Slow response after the airport bomb?
Questions also surfaced regarding procedures immediately after the airport attack at 7:58 a.m. local time (0658 UTC/GMT). Belgium's government decided just under an hour later that it would shut the Brussels metro and five rail stations. However, subway operator STIB said it received no order to halt services prior to the bomb blast at Maelbeek metro station, which came at 9:11 a.m., just over an hour after the initial attack.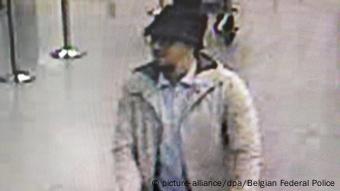 Despite some false leads, the 'man with the hat' is still known only by his nickname
Network rail services, meanwhile, continued operating for just over half an hour after the Maelbeek bombing.
The mystery 'man in the hat'
Finally, investigators are still trying to identify "the man in the hat," caught on airport CCTV with the El Bakraoui brothers shortly before the attacks. Initially, he was reported to be bomb-maker Najim Laachraoui - and then Belgium arrested Faycal Cheffou, believing him to be the missing suspect. Cheffou has since been released from custody, however, after providing an alibi saying he was at home on the morning of March 22. Police say that mobile phone records showing him receiving calls there seem to corroborate his story. The search continues.