It is the summer of 2006, and Germany is enraptured by soccer, with the World Cup under way here at home. That goes for Berlin too, the location of Café King, whose slogan is "we bet you'll come back again." Ante Sapina is there, and he's making big plans. The German-Croatian wants to globalize betting fraud.
Berlin is where Sapina gets to know Marijo C. who, along with others, helps him execute his bold idea. His accomplices give him access to the Asian gambling market, one with virtually no rules or limits and an annual turnover of up to 100 billion euros ($143 billion).
Sapina spends his nights in prison, sitting out a 36-month jail term for his involvement in the Hoyzer affair, a betting scandal surrounding Bundesliga referee Robert Hoyzer. During the day he devotes himself to his passion.
The betting fraud charges against him and five co-defendants revolve around the manipulation of 47 football games - from the Oberliga to the Champions League and even World Cup qualification matches, but not the Bundesliga, it appears. Entire teams were forced to put on a show, according to the prosecution. Fans, meanwhile, were clueless.

Even Judge Wolfgang Mittrup was impressed by Sapina's confession: "Maybe someday when you're free, there will be a professorship in betting!" State Prosecutor Andreas Bachmann described Sapina and his team as the "Champions League of betting fraud."
A network of fraudsters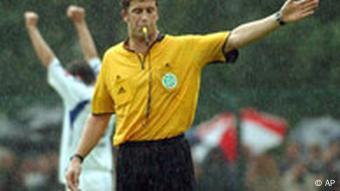 Referee Robert Hoyzer was heavily involved in manipulating matches
Sapina, the main defendant during the trial, confessed to bribing players, referees and UEFA officials. "I got a share of the money when players were paid," explained Sapina. "We manipulated multiple matches."
Together with colleague Marijo C. - also a German-Croatian - he organized and financed a training camp for Bosnian club NK Travnik in Switzerland, to bet large amounts of money on manipulated games. It is a lucrative business, one in which a single payout in Switzerland can be up to 116,000 euros.
Their creativity had no boundaries. They took over a Belgian second division team, assembled with "obedient" players, who would perform on the pitch according the wishes of their bosses without exception. Numerous referees and players, included some from Germany, are believed to have cashed in on bribes. Eventually players themselves became involved in betting, and a dependency developed between players with high debts and the betting fraudsters.
Marijo C., who owned several betting bureaus in Nuremberg, described one very well-known former Bundesliga player as being so addicted that he had to occasionally lock him into his gaming salon overnight. Convincing professional players to become involved in the manipulation of matches was often all too easy. The most recent confession came from former St. Pauli striker René Schnitzler, who admitted to having been a compulsive gambler since the age of 18 and receiving 100,000 euros from a betting magnate.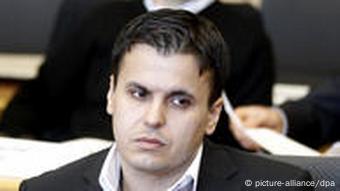 Marijo C. was one of Sapina's primary accomplices
Everything ran smoothly for some time. According to his own estimates, Sapina earned an average of one million euros per month from sports betting. He placed bets on around 30 games per day, at least one of which was manipulated. He worked closely with contacts in Malaysia and Hong Kong, who laundered his profits and transferred them to Europe.
Lucrative business
It is unclear exactly how much Sapina earned from betting, but the amount is, in any case, very high. He has secret accounts on the Isle of Man and has hidden money in Croatia and other countries. State prosecutors went as far as Russia, China and Malaysia to search for his illegal assets.
The majority of the money Sapina and his accomplices earned was placed in Asia. The account of one London bookie allegedly had a turnover of 32 million euros between 2008 and 2009. German investigators estimate that Sapina scored around 3.5 million euros by betting on manipulated soccer matches. The net profit was significantly lower, though, as that includes betting stakes.
Sapina's is the story of a man's rapid ascent and deep fall in the pursuit of quick money. Within a few years, he emerged from being a poor economics students to the king of betting in Berlin. He invested millions into his "business" as his lifestyle became increasingly expensive.
After his first conviction six years ago, Sapina promised to leave the betting world behind. "Now I will start a new life," he said. "The scandal chapter is done." Despite this declaration, Sapina dove right back into business just a few weeks after his release from prison. Now he can expect to get his dues.
Author: Srecko Matic (cn)
Editor: Nancy Isenson