Wikipedia is one of the top 10 most popular websites on the Internet, with 400 million visitors each month and a presence in over 270 languages. But does that make it a World Heritage site? The online giant certainly thinks so.
"It is a global challenge to recognize, support and preserve the work that hundreds of thousands of volunteers invest in this community project," said Pavel Richter, CEO of Wikimedia in Germany. "The key to free exchange of knowledge is public recognition."
A global petition - "Wikipedia 10" - launched May 22 and aims to raise international awareness for the cause and coincides with Wikipedia's 10-year anniversary.
German roots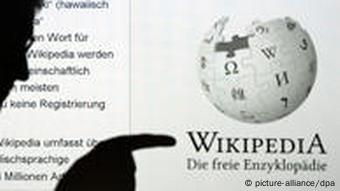 Founded in 2001, Wikipedia is among the world's 10 most popular websites
The idea for this ambitious project came from Germany, which with its 1.2 million entries is the second most prolific "Wiki-language" after English.
Wikimedia, Wikipedia's German not-for-profit overseer, proposed the idea at the global Wikipedia conference in Berlin in March. The conference was attended by Wikipedia's 30 country "chapters," which all gave the initiative the thumbs up.
Wikipedia organizers said they are confident the site fulfils many of the criteria set out by UNESCO, such as the very first: To represent a masterpiece of human creative genius. But challenging the rules is very much an integral part of the bid, according to Wikimedia spokesperson Catrin Schoneville.
"We want to create a new conscience for free knowledge, and this bid is just as much about sparking discussion and controversial debate," she said.
Heated debate
This provocation has been taken in good spirits by UNESCO, said Dieter Offenhäusser of the German commission for UNESCO.
"We sympathize with a lot of the objectives of Wikipedia, in the sense of finding new ways of giving access to information, targeting youth groups and their commitment to freedom of knowledge," he said. "All of these things are very in-line with UNESCO objectives."
However, Offenhäusser stressed it was highly unlikely that Wikipedia would be able to circumvent to the principles laid out in the 1972 UNESCO convention. It stipulates that a World Heritage site has to be a physical entity.
"They are trying to turn a 'website' into a physical 'site,'" said Offenhäusser. "But conventions can't be changed, so we are trying to find different ways we could cooperate with them."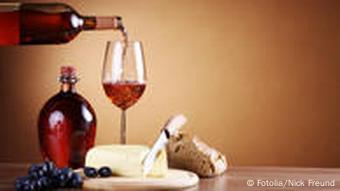 Is Wikipedia more like the Grand Canyon in the US or a French meal?
Aiming high
Other options for Wikipedia might be inclusion in lesser known lists such as the UNESCO Intangible Cultural Heritage List, which features things like Flamenco dancing or 'the gastronomic meal of the French.'
Another potential list for Wikipedia is the Memory of the World List, launched in 1992 by UNESCO to protect and promote the world's documentary heritage through preservation and access.
"In my view, Wikipedia is a new form of intangible world documentary heritage," Offenhäusser said.
Wikipedia officials, however, whose site boasts having "the greatest collection of human knowledge," remains adamant they are aiming for the highest accolade and the program with the most global attention: the World Heritage List.
Another of UNESCO's designated criteria is that the site must be endangered. Here too, said Schoneville, Wikipedia can make a case.
"Access to knowledge is by no means a given," she said referring to a sudden ban on Wikipedia in Pakistan just last week.
Other countries to ban or partially ban the site include China and Iran.
Long term investment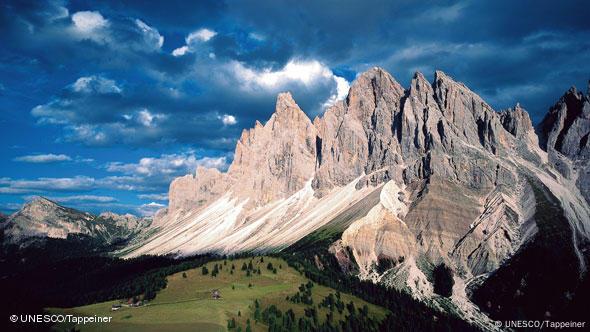 Could we be seeing Wikipedia alongside the Dolomites mountain range, a World Heritage Site?
Wikipedia is under no illusions. Successful or unsuccessful, the process will be a long and arduous one. The first step will be drumming up as much support for the petition as possible until next year, when the website will have to be nominated by a country (other than Germany) for inclusion on the consideration list.
An intergovernmental committee of 24 countries will then make a final decision from this list, a process which can take years.
"We know it's not easy, but we think we are in with a good chance," said Schoneville. "Accepting us can only be beneficial to UNESCO and would catapult it into the technological age."
Offenhäusser mirrored Schoneville's positive attitude.
"This is only the beginning of a mutual discussion with Wikipedia," he said. "We sympathize with this desire and we take this as a starting point."
Even if Wikipedia does not manage to secure the title of World Heritage Site, the website's organizers will not see it as defeat, Schoneville said.
"We are convinced this will unleash a great debate, and that in itself is a success," she added.
The online petition will run until January 15, 2012.
Author: Sarah Stolarz
Editor: Sean Sinico