Since Deutsche Welle started Learning by Ear in cooperation with Germany's Federal Foreign Office in early 2008, the project team has been growing continuously. Today it consists of almost twenty professionals from Africa and Germany. Among them are project managers, editors, editorial assistants, translators and technicians. They work hand in hand to achieve one goal: to produce interesting and entertaining programs which reach the hearts and minds of young people across the continent.
Our playwrights and reporters
James Muhando is a Kenyan entertainment professional who has worked in the creative industry since 1999. The thespian and creative writer started out as a stage performer, but later joined the Kenya Broadcasting Corporation as a writer, voice and TV actor. The aspiring TV and radio producer joined DW's Learning by Ear in 2008 as a voice actor and went on to become one of the authors. He wrote the series "Lent Luxury" and "Crossroads Generation" seasons two, three and four. James also supports the production of the Learning by Ear series in Nairobi as a stringer.
Chrispin Mwakideu from Kenya is a trained puppeteer, actor and playwright. For more than 10 years, he has been involved in "Theatre For Development", using puppets, drama and animation to tackle social, political and economic issues. For him, Learning by Ear is like a very exciting journey. "As a playwright I do not only feel like I'm part of the stories I write, but I also learn a lot in the process", he says. Chrispin is the author of the LBE-series about political participation, malaria and "Soccer made in Africa – much more than a game''. He also wrote the first season of the radio novella "Crossroads Generation".
For Kenyan management consultant Njoki Muhoho, creative writing has long been a hobby but has now turned into a second career. The well-known scriptwriter, poet, journalist and filmmaker is currently executive producer of "Changes", an East African TV drama series broadcasted in over 50 countries in Africa. Njoki is the author of the series about "Jobs and Education", "Internet and New Media", "Hygiene and Diarrhoea" and "Girls".
Romie Singh currently works as an educational radio producer, scriptwriter and trainer in Johannesburg, South Africa. She started off as a radio journalist, producer and presenter at Deutsche Welle Radio in Germany. Then she moved to South Africa in 1998. In 2008 the Learning by Ear project asked Romie to write the radio drama "An Angel in Everyone", aimed at spreading information about HIV and AIDS. She is also the author of the series about family planning. Her latest Learning by Ear project is the drama about religious dialogue: "A Bridge over Gori".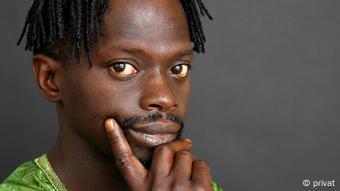 Ibrahima Ndiaye is one of the most popular African storytellers in Germany
Ibrahima Ndiaye was born in Senegal and works as a dancer, actor, musician and author. He is one of the most popular African storytellers in Germany. With a unique mixture of pantomime, music, dance and a lot of wit, he is able to cast a spell on his audience, be it large or small. He was honoured for his cultural commitment by Abdou Diouf, the ex-president of his native country, and has received many awards for his work. He's the teller of the tales about peacebuilding.
Zainab Aziz Salim bid farewell to her native Kenya four years ago, but she's happy to contribute to Africa's development by producing stories for Learning by Ear. She's a seasoned journalist, having worked with Kenya Broadcasting Corporation and Deutsche Welle's Kiswahili Service. Her special interest are educative programs about HIV and AIDS. She is the writer of the succesful LBE-novel about women and girls.
Yaya Boudani has been a journalist with Radio Pulsar in Burkina Fasosince he got his journalism degree from the University of Ouagadougou. He is now in charge of the journalism program there. Working for Learning by Ear is a satisfaction to him. "I always considered radio as the most efficient way to reach Africa's future generation. And Learning by Ear is a whole new way to make radio."
Hope Azeda is a specialist when it comes to combining entertainment and information. A native of Rwanda, she has written and staged numerous plays about crucial social issues. Besides, she is a consultant to NGOs and government agencies. She holds a diploma in music, dance and drama from Makerere University. She wrote the Learning by Ear radio dramas on health and media.
Henry Fotso works as a journalist for the "Agence africaine d'information et de communication (AIC)" in Cameroon. He believes that the Learning by Ear radio dramas are a true reflection of the lives of Africa's youth. In his eyes, young listeners can strongly identify with the series' contents. "It is a great pleasure for me to realise some radio dramas for Learning by Ear, because the series are very close to everyday reality", says Henry.
Justine Bitagoye started her career as a journalist and television presenter in her home country Burundi. But she's known in other parts of Africa as well. Her breakthrough was the much discussed documentary "Mieux vaut mal vivre que mourir", a film about children who live on a dump site. It was featured at the Pan-African film festival FESPACO. Like Hope, Justine holds a masters degree from Makere University in Kampala. For Learning by Ear she reports on the effects of globalization.
Alex Billy Gitta is an aspiring young journalist from Uganda. When he's not producing stories for Learning by Ear, he reports breaking news for local broadcaster 93.3 KFM in Uganda's capital Kampala. He has trained as a journalist at the Institute of Mass Communication and attended training courses at BBC and Deutsche Welle Radio.
Sam Tolulope Olukoya is a well known TV, radio and print journalist in his home country Nigeria. He reports from the lively city of Lagos and has been honored with various awards for his captivating stories. "Crime reporter of the year" and "radio reporter of the year" are just two among several of his awards. For Learning by Ear Sam has met some successful young professionals. He wants to encourage young Africans to find a good job for themselves.