Last year, the Emmys were held exclusively online and celebrities had to give the customary red carpet and camera flashes a miss. This year, TV stars will meet in Los Angeles on September 19, in person but with strict hygiene regulations amid the COVID pandemic.
Organized by the International Academy of Television Arts and Sciences, a non-profit based in New York, the Emmys are considered the most important awards in television. Together with the Oscars, the Tonys and the Grammys, the Emmys are considered one of the four major prizes in the US entertainment industry. This year, the awards will be held for the 73rd time.
The first Emmys were awarded in 1949 and a lot has happened since then. Most of all, in the last two or three years, movements like #MeToo and #BlackLivesMatter have shaken up the American entertainment industry and forced it to deal with issues regarding the representation of the country's diversity ― in front of and behind the camera. But have things changed?
More representation
While the Academy Awards struggled with #OscarsSoWhite criticism for a long time, the annual Emmys proved to be more inclusive. This was probably due to the fact that a number of television series, many of which were produced by streaming giants Netflix, Hulu, and Amazon, are more diverse. Even last year, the Emmys sent a signal for more diverse representation, according to the Hollywood Diversity Report 2021.
Many BiPoc (Black, indigenous and people of color) celebrities as well as LGBTQ actors have won prominent Emmy Awards. The Television Academy has, in the name of inclusion, undertaken many changes in its nomination process.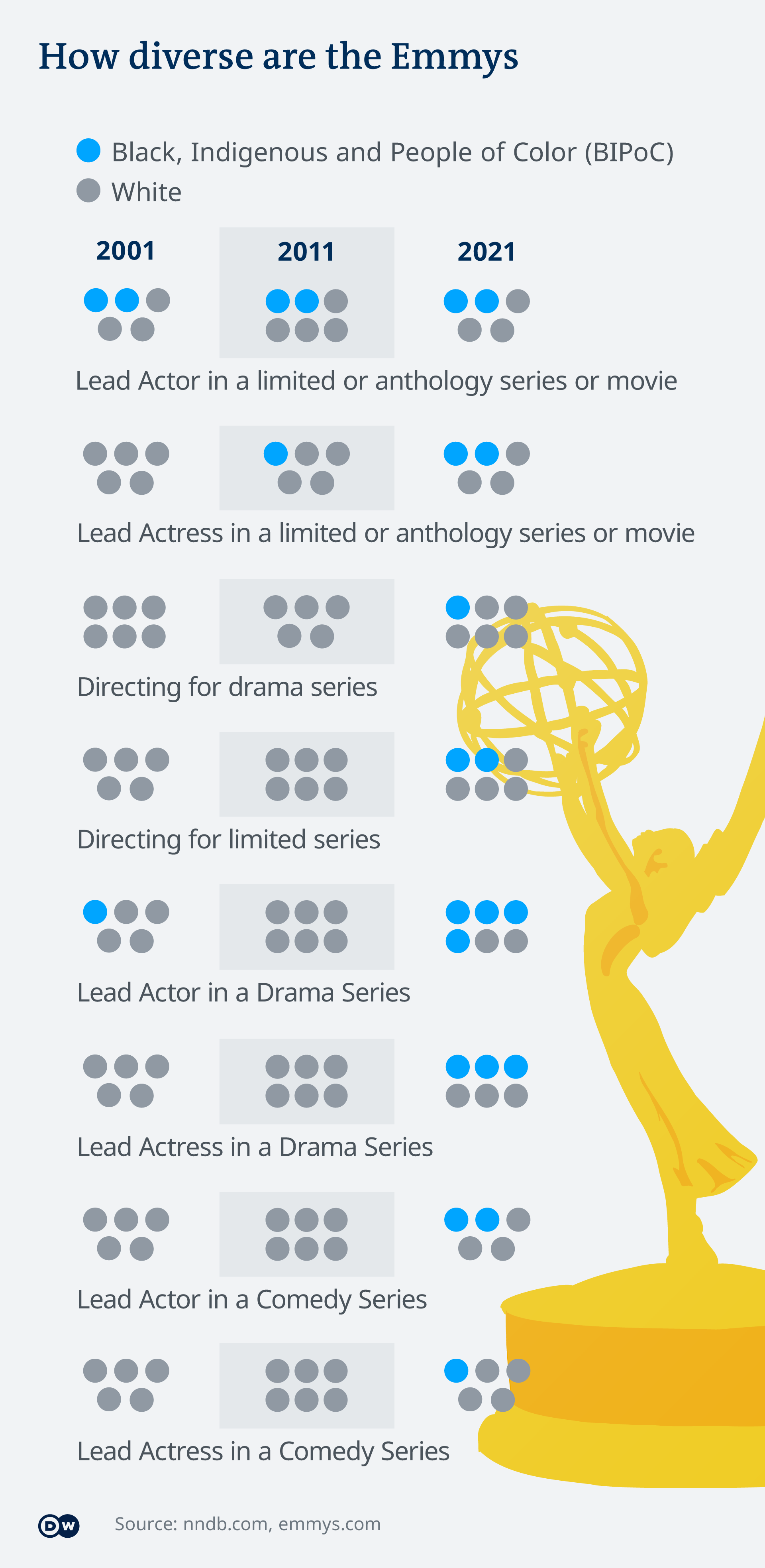 Emmy nominations over the years
Far from the goal
However, there is criticism that the reforms don't go far enough. Last year, not one Latinx (a gender-neutral term for people of South American origin) person was nominated. BiPoCs were also not adequately represented among the award-winners.
Voices of protest spoke up soon enough: John Leguizamo, who won the Emmy for Outstanding Performance in a Variety or Music Program in 1999 for Freak, criticized the awards on Yahoo!Entertainment, saying, "It's unbelievable that our stories aren't being told and there's one reason for that… Executives don't see us, don't get us — don't care about us."
The actor said that the group is the largest minority in the US and contributing $1.3 trillion (€1.1 trillion) to the US economy.
"We just need to have somebody, you know, give us the pat on the back and represent us correctly," he said, calling the discrimination of Latinx people "cultural apartheid."
In a statement to the Los Angeles Times, the Television Academy wrote that it was a positive sign that performers of color had increased from 1 in 10 to 1 in 3 nominees across all performer categories. But the members agreed that "clearly that increase in representation has not been equal for all groups, and clearly there is still more to do to improve both gender and racial representation across all categories."
Nominations 2021
In the meantime, many players in the film and television industry are focusing on diversity. While BIPoC actors were hardly represented in the last 10 to 20 years, this year looks different. Around 44% of nominees in the acting categories are BIPoCs.
This year, the Television Academy nominated a transwoman for the first time. MJ Rodriguez has been nominated in the lead actress in a drama category for her role in Pose, a series set amid New York City's drag ball culture during the 1980s and 1990s. Categories like best director and screenplay are, however, still dominated by white artists.
Diversity in German TV
A lot of progress has been made in the German film and television landscape as well.
"I have noticed that something is changing, but at a small scale," says German actor Denise M'Baye, who is of German, Senegalese, Dutch and Indonesian heritage.
"An example: Lorna Ishema [a German actor who was born in Uganda] was nominated for the film Ivie wie Ivie [German for "Ivie, as in Ivie"] at the German film prize. That's a big thing and in the Black film-making community there was a huge applause for this nomination. The fact that we're so happy about it shows that it is an exception and how it's something out of the ordinary even today," she told DW.
German actor Denise M'Baye
M'Baye played novice Lela in the German TV series Um Himmels Willen [For God's sake] and has contributed hugely to establishing actors of color in German television.
"I have noticed this year that the roles I am offered, even the names sound German. These roles could have been played by blonde actresses. I notice therefore that a change is taking place. And I hope that it does not remain at the surface and is not done just to fulfil quotas, but that we understand that it makes sense to represent this diverse society, this multi-faceted Germany," M'Baye says.
She pleads for more inclusion among editors, screenwriters, authors and directors.
"When we start at the end, at the awards ceremony and at that point, wish for more inclusion, then we have the screenplay at the beginning," M'Baye says. "The question is, who decides. Unfortunately, it is always the case that marginalized groups and people of color are still underrepresented. We need more inclusion at all levels to represent our society, which is diverse."
This article was translated from German.