For the 2008 summer Games the Olympic flame was rekindled on March 24 at a traditional ceremony at the Temple of Hera in ancient Olympia, Greece. Over 130 days, the torch will cross five continents and stop in 21 cities before reaching China. It is meant to be carried by more than 21,000 people and to travel 137,000 kilometers (85,000 miles) before it arrives in Beijing on August 8 for the opening ceremony of the Games.
"The Olympic flame will radiate light and happiness, peace and friendship, and hope and dreams to the people of China and the whole world," said President of the Beijing Olympic Committee President Lieu Qi, at the torch-lighting ceremony in Greece.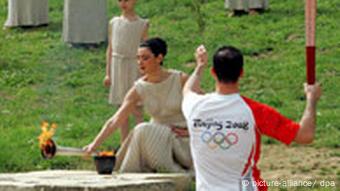 The flame was lit in a ceremony in Greece

While that sounds eminently noble and true to the Olympic ideal, the tradition has much more dubious origins at the 1936 Berlin Games. Carl Diem, a functionary in Hitler's Nazi sporting apparatus, is widely considered the creator of the torch relay. Diem supposedly was inspired by drawings of torchbearers on an antique vase, but Joseph Goebbels' propaganda ministry had a strong role in supporting the project.
From Olympia, the torch was carried through the Greek cities of Athens, Delphi and Thessaloniki. Then it traveled to Sofia, Belgrade, Budapest, Vienna, Prague and Dresden before making its way to Berlin. Siegfried Eifrig, now 94, carried the flame on August 1, 1936 into the heart of the Nazi's capital.
"I carried the torch down Unter den Linden past the statue of Frederick the Great. There was a big youth event with around 30,000 young people near the Old Museum. I ran past the youths and up to an altar as tall as a man. That's where I lit the flame."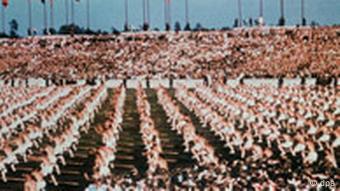 Nazi Sportjugend (sport youth) in 1938 in Nuremberg
The gathering of young people was organized under the auspices of the Hitler Youth and Goebbels closed the event with the words: "Holy flame glow, glow and never be extinguished!"
Although the flame was supposed to symbolize world peace during the Olympic Games, Hitler's Germany was backing General Francisco Franco in the Spanish Civil War. Experience gathered there by the Nazis would later be put to use during the Second World War.
The torch relay has since shaken off its darker past to become an integral feature of every Olympics. However, torchbearer Eifrig, never a member of any Nazi organization, pointed out that the world still hasn't managed to live up to its peaceful ideal.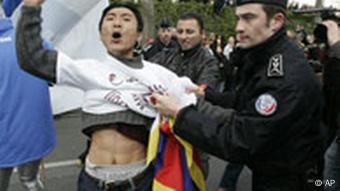 Police had their hands full with protesters in Paris
"The flame is supposed to bring peace as it travels around the world. But that's naturally an illusion if you open the newspaper these days," Eifrig said ahead of the torch relay for the 2004 Athens Olympics.

As protesters in London, Paris and San Francisco show, his comments could hardly be more appropriate