A street-level billboard looks onto an ordinary sunny day in Germany. Among the passersby, a man walks up a hill behind the sign, disappearing from view, and returns a couple of moments later. As the sequence repeats itself with different men, some grungy, others dressed elegantly, the viewer comes to realize what is going on.
"The guy is having a pee," an audience member remarks with a chuckle at the New York City opening of Nina Könnemann's latest work - an untitled, roughly 10-minute video incorporating these scenes - at Ludlow 38.
Könnemann is among the diverse ranks of German artists whose pieces are currently resonating with audiences in New York City - arguably home to the world's most discriminating cultural palettes. Some of the artists on show in the coming months live in Germany (or German-speaking countries), like Berlin-based Könnemann, while others, like abstract painter and Cologne-native Rainer Gross, have emigrated permanently to the Big Apple.
German artists and curators may resist being grouped by a concept as gauche as nationality. Yet those who have found their way to New York seem unified by a cosmopolitan worldview that reverberates with faint echoes - among other, lighter themes - of the postwar German experience.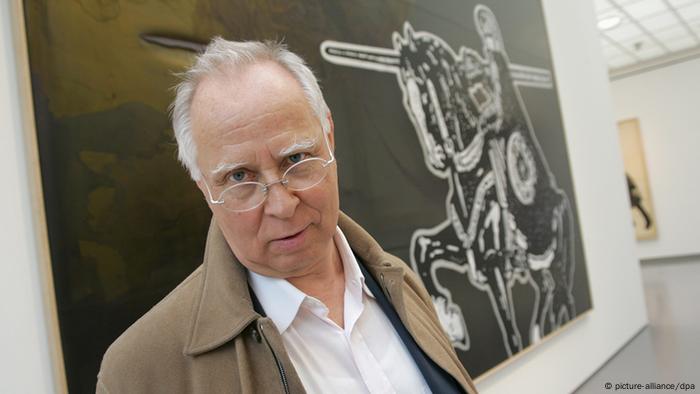 MoMa is doing a retrospective on Sigmar Polke, who died in 2010, next spring
Several major exhibitions over the coming months will be putting German artists at center stage in the Big Apple. The Museum of Modern Art is showing the first major US retrospective of Isa Genzken starting next month, with a retrospective of Sigmar Polke to come next spring.
The Guggenheim Museum is planning an exhibition of Zero group members Otto Piene, Heinz Mack and Günther Uecker starting in October 2014. Meanwhile, works by Joseph Beuys, Katharina Sieverding and other avant-gardists from across the Atlantic are regularly on view at MoMA PS1, which describes itself as one of the world's oldest and largest organizations devoted solely to the advancement of contemporary art.
'Fruitful cross-pollination'
"I feel it's been a very fruitful cross-pollination between New York and Berlin, with artists going back and forth," Juliane Camfield, cultural coordinator at New York University's Deutsches Haus (German House), said in observing the recent influx of German influence on NYC's cultural scene.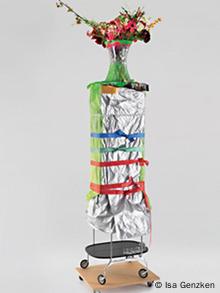 "Hospital (Ground Zero)" is a 2008 work by Isa Genzken
While Berlin has been a major international cultural player since German reunification in 1990, if you go a bit further back to the Cold War days, German exports to the US tended to come mainly from major West German cities like Cologne and Dusseldorf.
Back then, it was magical New York that played the muse, more than the other way around. When Rainer Gross traveled from Cologne to New York in 1973, the vibrant art scene made such an impression on him that he dropped out of his home city's school of applied arts.
"When you're 20 or 22 years old, you just want to come to New York," he told DW in an interview in his Long Island City studio. "Coming to New York was just a great experience. I got absorbed in the 70s."
Grosss story reads like an artist's dream. After coming to New York as assistant to pop art proponent Howard Kanovitz, his first gallery got a half-page review in The New York Times. That catalyzed a prolific painting career that has touched on topics ranging from the Holocaust to American commercialism.
Cultural references
Germany's persecution of Jews during World War II inspired Gross to make images of paintings by Jewish artists which the Nazi government confiscated and sold away in what Gross calls a "paintings Holocaust." Gross' homages first went on display in Switzerland in 1985.
The artist's most recent work, a series he calls "contact paintings," recalls the action paintings of Jackson Pollock. Gross befriended legends from Pollock's generation after moving to New York. However, in sharp contrast to Pollock, each of Gross's contact paintings features a cropped, somewhat distorted image of a logo or icon, from McDonald's golden arches to Mickey Mouse.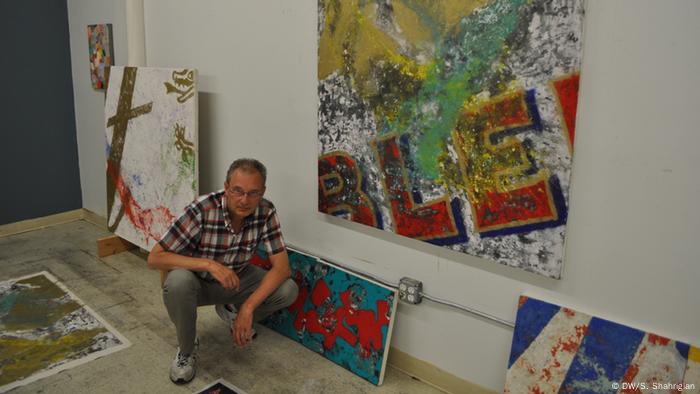 Rainer Gross says he depicts cultural differences in his work
"I was making a lot of abstract pieces and people were always talking to me about the purity of abstraction," Gross explained. "I thought, there's no purity in abstraction. At some point I just decided I wanted to have some cultural references again. So I used excerpts of logos."
When Gross came to New York, the city was known for cheap rents and an atmosphere congenial to making art - not unlike present-day Berlin. But he and others in the artistic community remarked that nowadays, fierce competition and the high cost of living mean aspiring artists have to build a career very quickly - or get out.
Whim in a rat race
At a show earlier this month at the Deutsches Haus, teacher and artist Katrin Roos, a Swiss expat, recounted some of the challenges she has faced to date.
"It was fairly hard for me to come to New York," she said. "I do feel it's in some ways reflected in my work. Some of the works that I did were very particular in trying to figure out cultural differences."
Roos' contribution to the show consisted of pencil drawings of familiar scenes with miniature human figures made out of matchsticks. She said her small scale was intended to criticize mass consumption and the resulting loss of humanity.
But Roos' depictions of trapeze artists, a rooster and Shakespearean actors had a playful feel reminiscent of Könnemann's video.
For the cool cosmopolitanism and questioning nature of many of their works, German and German-speaking artists in New York have not only brought the deep philosophical approach they're internationally known for - but also a welcome whimsical touch.