Sustainability-focused designer Yves Behar has made a name for himself working for international mega-firms and charitable innovation projects. He's been featured on the covers of major magazines, his work is held in museum collections around the world, and he's spoken at the acclaimed TED lecture series.
Now Behar has turned his hand to redefining one of Germany's most iconic brands: 101-year-old Nivea.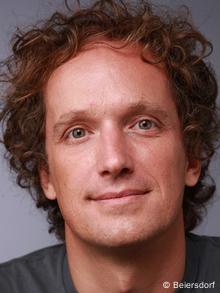 Yves Behar often work on projects associated with sustainability
Born in Switzerland to a Turkish father and an East German mother, Behar runs the Fuseproject agency in San Francisco, developing design solutions for global giants including General Electric, PayPal and Coca-Cola. Regardless of the scale of the assignment or the size of the company, the designer's core philosophy drives his work.
"To me, design has always been about storytelling. From the first minutes that I created the Fuseproject studio 12 years ago, we said, 'Design brings stories to life,'" Behar told DW. "And not in the ways that sometimes marketing or other forms of communications can allude to the truth or reality, but in the way that design is something that is physically experienced."
Celebrating a design tradition
Behar is perhaps best known for his affordable hand-powered computer for the One Laptop Per Child initiative and the shoe box-eliminating "clever little bag" for Puma. Now he's received a carte blanche from Hamburg-based parent company Beiersdorf to entirely remake Nivea's look.
To start, Behar and his team looked closely at the myriad products the firm was putting on store shelves. Creating a new logo was the next step. It is meant to remind people of Nivea's heritage and instantly calls to mind the best known product from the brand: The round blue tin of skin cream with white Bauhaus lettering has been a signature of Nivea since 1925.
"For me there was an element of being sort of respectful - about finding a place in time when Nivea was at its purest expression and trying to do that again, trying to celebrate that," said Behar.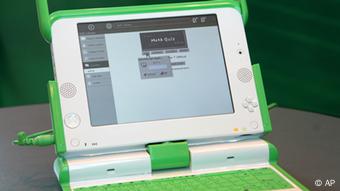 Behar is also behind the affordable laptop for developing countries
His task extends well beyond a new logo, however, and includes refreshing the packaging for all 1,600 Nivea products - with an environmentally friendly eye towards conservation resources and efficient production and distribution.
Not everyone believed sustainability and profitable design could work together. Some skeptics at Beiersdorf gave the project only a 10-percent success rate, Behar noted wryly.
"The compromises that exist between sustainability and design are often described as false compromises in my opinion," he insisted. "Often sustainability is described as being more expensive or more complicated for the consumer. And I've always believed it's actually the reverse."
Measuring the ecological impact
Behar began by creating new plastic bottles for the firm's best-selling body milk. The streamlined design allows more bottles to fit into each packing box, which minimizes shipping materials and costs. They also look more sophisticated and their aesthetic reference to vintage milk bottles conveys trust and nourishment, explained Behar.
More product containers will be revised and released through 2015. Beiersdorf says its packaging materials, now fully recyclable, have been reduced by 15 percent through Behar's redesign and label materials have decreased by 23 percent. Additionally, it's expected that 12,000 fewer shipping pallets will be used each year and annual carbon dioxide emission will decrease by 585 tons.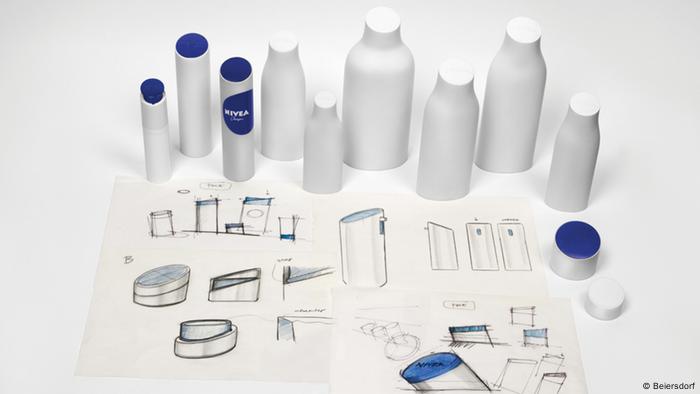 Back to the drawing board - Nivea gets a new look
The company believes environmentally friendly measures also save money and appeal to emerging markets, which will be the source of an estimated 50 percent of the company's sales by 2015; in 2012, Beiersdorf registered global sales of 6.04 billion euros ($7.87 billion).
"We're working quite a lot on sustainability, but we never talk about it," said Ralph Gusko, a member of Beiersdorf's executive board. "We're Hamburg merchants - we have a saying: 'Tue Gutes und rede nicht darüber' (Do good, but don't talk about it)."
Selling sustainability
Eileen Bevis, research analyst at Euromonitor International, noted that more than half of consumers surveyed in their studies say they feel sustainable production is an important factor when they are weighing the purchase of products or services. Still, said Bevis, companies need to explain how their green methods translate to personal advantages for the buyer, like improved health or well-being.
"Ecological features which benefit consumers and their families directly, rather than just the broader environment, inspire the most willingness to pay," Bevis told DW. And in the end, she added, product sustainability pales in consumers' minds when pitted against more major concerns such as price or quality.
Whether Yves Behar's new look for Nivea delivers the total package to consumers remains to be seen. But for now at least, he's convinced the decision-makers in Beiersdorf's own ranks that sustainability and design don't have to be mutually exclusive.