Some 25,000 people took to the streets of the eastern Indian city of Kolkata on Monday to protest at a government ban on high-denomination banknotes, which critics say has had a highly disruptive impact on people's lives in an economy operating almost entirely on cash.
An estimated 6,000 more protested in the western commercial hub of Mumbai, police said, and there were other smaller protests elsewhere in the country.
The country is in the grips of a liquidity crunch after Prime Minister Narendra Modi's government declared 500- and 1,000-rupee banknotes (6.82 euros and 13.64 euros; $7.28 and $14.55) to be no longer legal tender from midnight of November 8.
The decision pulled 86 percent of the currency from circulation overnight, causing a chronic shortage of notes and widespread chaos as people queued at banks to exchange old currency. Holders of the banknotes have until the end of the year to put them in a bank account, and are allowed to exchange only a small number for new currency - of which little is available, as authorities struggle to print new notes to meet the demand.
'Day of Rage'
The protests were called by opposition parties including the main Indian National Congress, which launched its "People's Day of Rage" with a rally outside the parliament in the capital, New Delhi.
"We are protesting against the undeclared financial emergency imposed by the government and the hardships people across the country are facing because of this illegal decision," said Congress' Manish Tiwari.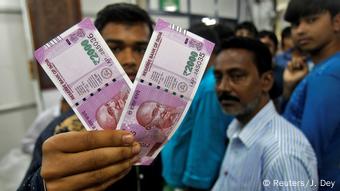 Printers are struggling to meet demands for new banknotes
"The decision to demonetize high-value currency was done without any authority and legislation and is clearly illegal."
The government has responded to criticism by saying the measure will fight corruption and tax evasion, with the rich being forced to pay their taxes as they have to bank undeclared income. Modi has called the scheme's detractors "tax evaders" and urged all Indians to switch to non-cash payment methods.
This is, however, something that is out of reach for many poor Indians, who have no access to banking and have been left without enough cash to buy food or daily essentials.
Despite this, the government's aim is supported by many ordinary Indians, with the result that a call by left-wing parties for a nationwide shutdown on Monday was ignored in most states.
'Monumental mismanagement'
However, widespread support among India's politicians as well is tempered by reservations about the way the measure was introduced.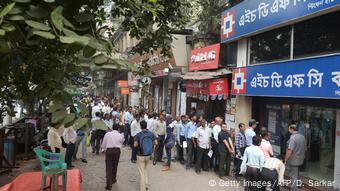 Huge queues have been forming at banks
Former Prime Minister Manmohan Singh of the Congress party, a noted economist, told parliament he did "not disagree with the objectives, but it is a monumental case of mismanagement."
"The way demonetization has been implemented, it will hurt agricultural growth and all those people working in the informal sector."
Modi was expected to defend the measure once more in parliament. The government says the cash crunch will ease by the end of December.
tj/kl (dpa, AFP)