Since Mwalimu Julius Kambarage Nyerere's deathin 1999, Tanzania's population has shot up and many young people, who constitute half of population, never saw the man in his lifetime. Others, who are in leadership positions, young as well, only reach out to people to share stories they have read about Tanzania's first president though they may have a remote memory of him.
Nyerere's global standing for justice, equal humanity and egalitarian economic policies still holds today. His passing is commemorated every year in Tanzania with academics, politicians and development analysts debating and mulling over his ideology, which put national interests first, while they, at the same time, reflect on the nation's future.
The elderly, who were close to the humble and modest national leader, sometimes express anguish over what transpired under Nyerere's successors. They claim there was no real continuity of what he extolled to overcome social, political and economic problems.
Following his death, Tanzania crashed and his success quickly descended into chaos. The country got swept away from Nyerere's socialist principles by the storm of globalization, liberalization and privatization of the world economy.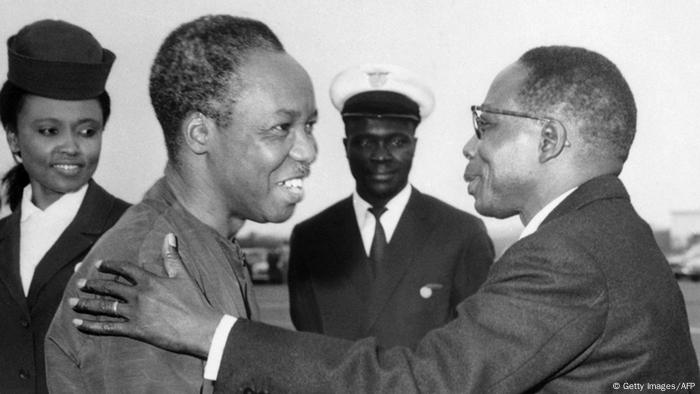 Nyerere, left, served as president from 1964 to 1985
Mushrooming mass media, not to mention their professional inefficiency, started directing public attention while the powers that be obviously failed to pass correct information to the press.
A fish out of water
Obviously, Tanzania was like a fish out of water. It found itself adopting policy measures, including legislation, which in some ways were controversial. Wealthy foreigners who had the money and the means took the opportunity to invest in the country to create new wealth, but for their own gain.
Addressing delegates at the 33rd Annual General Meeting of the Association of Local Authorities of Tanzania on October 3, President John Magufuli expressed bitterness about the way primary interests of the nation were overlooked in government contracts with foreign mining firms.
In his view, many contracts signed by preceding administrations would cause disorder. Having that in mind, Magufuli recently took action to amend the legislation on mining in order to ensure the country benefits from its natural resources.
"We have been doing things in imitation of others. We simply copy and paste," he remarked, stating that the original legislation passed by Nyerere to manage the mining sector was perfect and had taken national interests into account. "I am not blaming anybody, but I must always tell the truth."
In July 2017, the National Assembly passed new laws to raise mining taxes and to require mining firms to renegotiate their deals. Under the legislation, the state will control not less than 50 percent interest in mining companies. Magufuli wasted no time to put his signature on the law.
Despite some human mistakes, Nyerere took for his compatriots what many are now convinced were the right steps. Comparing him with those who assumed the mantle of the presidency after he stepped down in 1985, Tanzanians have said Nyerere was unique and close to ordinary citizens.
His uniqueness was in his lifestyle and in the strategies he advocated and put in place as matters of principle. True to his religion, Nyerere extolled justice and peace wherever he went. He denounced violence, describing it as "a confession of failure" because it "does not solve the basic problem of injustice nor put suffering in a positive context."
Now in Magufuli, some people say there is a trait of Nyerere's that gives them hope and optimism about the future of the nation. Others describe him as a rare person sent by God to remind Tanzanian citizens of their responsibility to the nation and of their own dignity.