Islamist militants stormed a school in Pakistan's northwestern city, Peshawar, on Tuesday. At least 126 people have died, including 84 students, officials said.
Pervaiz Khattak, Chief Minister of Khyber Pakhtunkhwa province, informed the media that an army operation was underway to counter the attack and that "intense gun fighting" was taking place inside the school.
12:08 Central European Time (CET): A spokesman for the Pakistani army, General Asim Bajwa, tweeted that one more terrorist had been killed, bringing the total count of dead militants to five.
Prime Minister Nawaz Sharif was in Peshawar to personally monitor the situation.
At least seven armed militants stormed the Army Public School and opened fire at children and teachers, police officer Mudassar Abbas told reporters. The militants had taken 500 students from grades nine and ten hostage inside an auditorium, Abbas added.
Soldiers and police commandos were conducting operations inside the school to rescue hostages, according to provincial education minister Mushtaq Ghani. Several of those injured were taken to the Lady Reading hospital in Peshawar. Ejaz Khan, official at Lady Reading said: "Many are in the operation theater now undergoing treatment."
Taliban claims responsibility
Pakistan's Tehreek-e-Taliban claimed responsibility for the attack, saying they were avenging themselves for the army's offensive in the country's northwest. Taliban spokesman Muhammad Umar Khorasani told Reuters: "Our suicide bombers have entered the school. They have instructions not to harm the children, but to target army personnel."
The school on Peshawar's Warsak road is run by the army, which has 146 educational institutions nationwide for children of military personnel. Soldiers' wives often teach here. The Taliban said in its statement that its militants "targeted the school because the army targets our families. We want them to feel our pain."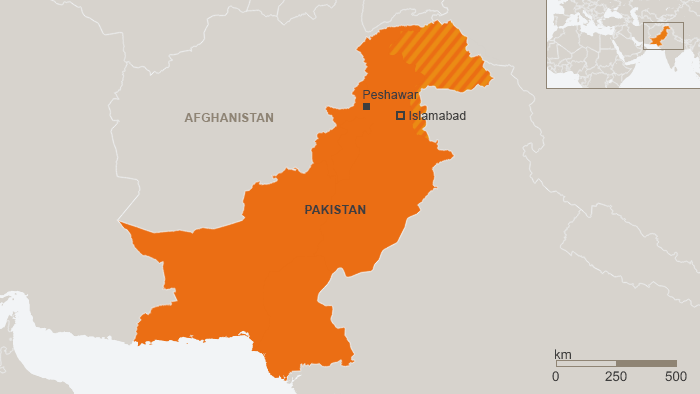 "It's a revenge attack for the army offensive in North Waziristan," Reuters quoted Khorasani as saying.
In June this year, Pakistan's army began an operation to destroy Taliban strongholds in the country's tribal areas which border Afghanistan and are being used as hideouts by militants. More than 1000 militants have been killed in the army offensive, according to officials.
India condemns attack
Indian Prime Minister Narendra Modi condemned the attack in a statement on Twitter.
India's Home Minister Rajnath Singh said the attacks exposed "the real face of terrorism." He expressed his condolences with families of the children who were killed in the attack.
The two countries have been at loggerheads since the militant attacks in November 2008 in Mumbai left more than 160 people dead.
mg/jr (dpa, Reuters)