Lost on the less-crowded trail in the Ganesh Himal sub-range, Liang Sheng Yueh, 21, and his 19-year-old girlfriend Liu Chen Chun were caught in a March snowstorm and tried to find shelter.
They followed a river down a steep hill in the hope of escaping the storm and finding a village, but they slipped over the edge of a waterfall, hit a ledge and could not climb down or back up.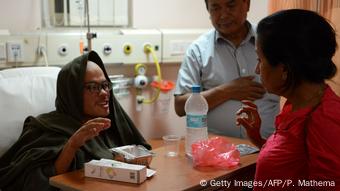 Liang Sheng Yueh (left) lay next to his girlfriend's dead body for three days
Liu died just three days before rescuers arrived. Liang was flown to a hospital in Kathmandu, and Liu's body was flown to the capital shortly afterwards.
"He was sleeping when we found them," Madhav Basnyat, one of the rescuers, told the Agence France-Presse.
"He woke up after he heard us. We were very surprised to find him alive. He said that the girl died three days earlier."
'Suffering from severe malnutrition'
Speaking haltingly and in broken English, Liang told AFP it had been "very cold" on the mountain, and difficult to sleep.
Liang lost 30 kilograms (66 pounds) during the ordeal and maggots infested his right leg, doctors treating him said.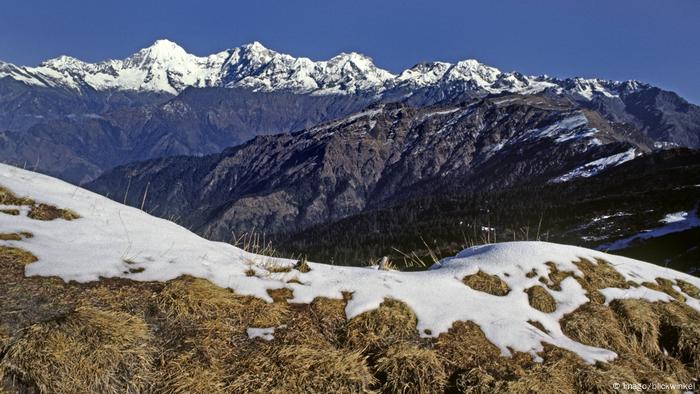 The Ganesh Himal are a lesser-visited sub-range of the Himalayas in north-central Nepal
"He was suffering from severe malnutrition. His foot was covered with maggots and his hair was full of lice. Despite having to live like that for 47 days, he appears to be mostly normal," Ajay Singh Thapa, a doctor at the Grande Hospital told the Associated Press.
The pair survived on salt and water when their supply of potatoes and noodles ran out after two weeks. They had no guides or porters.
After the couple went missing, Liang's father traveled to Nepal and chartered a helicopter to search for them. Rescuers combed the area for two weeks before suspending efforts, but resumed the search a week ago. Rescuer Basnyat said the team spotted a red tent and managed to climb down.
About 150,000 trekkers visit the Annapurna and Everest regions each year, with spring being the peak season.