When the radio started blaring, warning of regime shelling nearby, Abou Hadi (a moniker to protect his identity) didn't sound scared. He was already displaced from al-Waer, the last rebel held area in Homs, where he witnessed the worst parts of the Syrian war: indiscriminate bombardment, and enforced starvation, wielded by the state to bring an entire population to submission.
On September 1, 2016, Abou Hadi boarded a bus with his wife and children and left the city, knowing that he may never return. Transported to the countryside of Homs, the evacuation was the first of many to come. But his parents refused to join the exodus, not wanting to leave their home behind.
"They are afraid to lose their house," Abou Hadi told DW, speaking through WhatsApp. "Regime forces will soon retake the city, and my parents know anything can happen to their home in that time."
Read: From Madaya to Idlib - 'defeated but safe'
Their fears aren't unfounded. Civilians say criminals have exploited the chaos in opposition controlled areas by forging property documents, which lay claim to houses that aren't their own. Rebels have also looted houses and turned others into barracks. Yet activists and rights groups say that property confiscation is more widespread in areas the regime has retaken.
The scale of the issue is impossible to determine. But with nearly half of Syria's prewar population - 12 million people - uprooted from their homes, some civil society groups have started to focus on how to help people reclaim their houses once the war ends.
Proof of ownership
Amr Shannon, the program manager for The Day After (TDA), a Syrian advocacy organization based in Istanbul, says that they coordinate with activists inside the country to collect as many government records as possible.
"Most property records were never digitized in Syria, so we are trying to make copies of as many as we can," said Shannon. "The situation is very complicated, especially for detainees and refugees. These people have dreams of returning [to their villages] and reclaiming their homes after the war."
For that to happen, Syrians will need proof of ownership, yet many don't have it. In 2013, Shannon said, the property registry in Homs was burned, destroying thousands of files. Three years later, Bashar Assad issued a decree to digitize all property records.
Beginning in November 2016, civilians who were uprooted from Homs had four months to head to the nearest government registry office, check the accuracy of the new records, and then file an objection if they spotted an error. But most were reluctant to go due to fears of being killed, arrested, or conscripted into the army.
Others no longer have a home to claim. A report by the UN Human Right's Council found that regime forces have deliberately destroyed the houses of rebel supporters. The government has also passed a law that allows them to seize assets of human rights activists who defy them.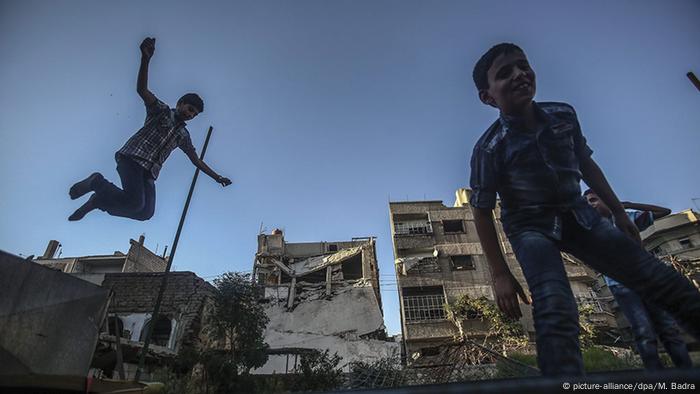 If returnees are lucky enough to find their homes intact, they may still not be able to move back in
Valerie Szybala, executive director at the Syrian Institute, a non-profit in Washington DC, which has followed the issue of population displacement in Homs, told DW that Syrians who never registered their houses are at the highest risk of being permanently displaced.
Read: Syrian refugee is the UNHCR's new ambassador
"Before the conflict, there was so much informal property ownership. Many people were living in houses that they never actually registered," she said. "With all the stories of people being forced from their homes despite having documentation, you can just imagine what's happening to the people who don't have any records."
A parallel system
Activists in Douma, a besieged city on the outskirts of Damascus, have opened their own property registries, which keep track of ownership, inheritance and transactions in the community.
Adnan, a former government employee who didn't disclose his last name, is now part of Douma's local council, which consists of a team of technocrats who have administered basic services in replace of the state. He oversees the property registries, which he opened after his team secured all the records that the regime left behind.
"It took us four to six weeks to sort through everything," he told DW, over WhatsApp. "But we did it. And we invited people to call or come to our office if they wanted to buy, sell or claim their homes."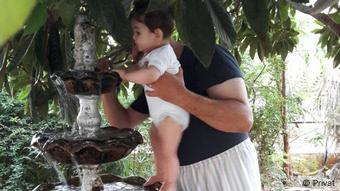 Abou Hadi (shown here with his child in his garden) doesn't expect to see his home in al-Waer again
When the regime imposed a brutal siege on the community four years ago, civilians started crowding into Adnan's office to sell their homes so they could afford to purchase basic, but increasingly scarce, supplies.
Refugees, stranded in neighboring countries, would call to check if their homes had been bombed. If they registered their houses before the uprising, then Adnan could tell them the status of their homes. New registries, modeled after the ones in Douma, have opened across Syria.
In a climate of chaos, these offices have protected civilians from property theft. But questions linger. Shannon, from TDA, suspects that the following government won't recognize records that were entered without the state's approval, meaning more civilians may have their houses confiscated after the war.
Abou Hadi, for one, is too scared to return home, yet his parents say they would rather die than lose their house.
"My parents are old so I don't think the regime will harm them once they move into (al-Waer)," Abou Hadi said, with resignation. "But I can't be sure. They have killed so many people. They have done so many terrible things."