As mass purges continue following Turkey's failed coup attempt - with more than 50,000 people detained, arrested or dismissed in recent days - dissident Turks are not the only ones suffering bouts of anxiety; some of President Recep Tayyip Erdogan's most loyal supporters are also concerned: Syrian refugees.
When it became clear that Erdogan's AKP, Justice and Development Party, would retain power, violent mobs descended on Ankara's Syrian neighborhood, smashing windows, vandalizing storefronts and looting nearly all Syrian-run establishments along the district's main shopping strip.
"They were so angry when they arrived, and we couldn't say anything to stop them," said Faiz Abed Al-Kareem, a Syrian whose fruit and vegetable shop had all its windows broken. "They were trying to provoke us, to bring us in the street to fight them, but we just stayed in our homes and prayed for the night to end," he told DW.
It was just after midnight on Sunday morning, when a rowdy crowd of AKP supporters arrived in Onder, Ankara's slum-turned Syrian refugee area. Having been called into the streets by Erdogan to protest the coup, some members of the crowd became empowered by their triumph over the military and a mob mentality took hold as about 200 people moved down Selcuk Street, targeting Syrian-owned businesses, causing damage to at least 30 establishments before being dispersed by police.
Imad Haddad (left) works to fix his vandalized storefront on Selcuk Street in Ankara
Syrians' post-coup fate
Turkey hosts about 2.5 million Syrians who are widely grateful toward Erdogan for giving them refuge since civil war broke out in their country, but the riots in Onder, have left the neighborhood's roughly 40,000 inhabitants worried about their fate in post-coup Turkey.
Standing inside what's left of his produce store, Al-Kareem said Turkish-owned business on his street remained untouched as rioters moved from one Syrian establishment to the next, ransacking everything inside.
"I'm so scared right now," Al-Kareem said. "People might start harassing Turks who rent places to Syrians. Storeowners won't do business with us anymore. They could take away our stores. This is a very dangerous time for us."
Many Syrians did not report the damage to authorities and opted to fix it themselves out of fear their safety would be compromised. Many operate businesses on a semi-legal status, and feel drawing attention to the weekend's events would only create problems with their Turkish neighbors.
Sadeq Mohammad, owner of a used home appliance business on Selcuk Street, said the washing machines and refrigerators in his store were destroyed and he estimated he had lost about $2,000 in merchandise.
"They came to steal and destroy, the police let them do it," Mohammad told DW. "I don't know why they did this. What caused this? I have no idea."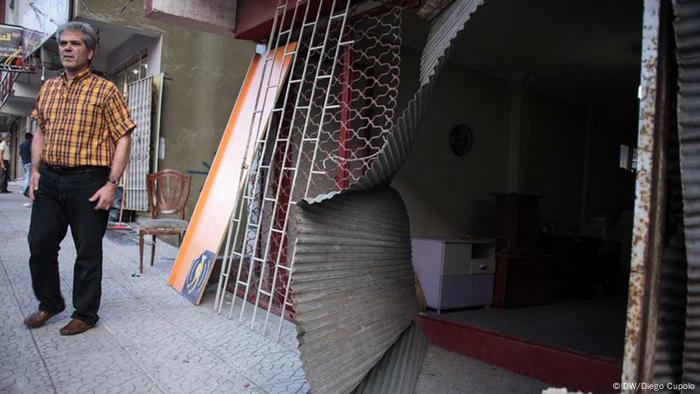 The gates were torn off Sadeq Mohammad's used-home appliance store on Sunday morning. He estimates total losses of $2,000 from the damage
Turks turn on Syrians
Mohammad said he had never experienced animosity from Turks living in the area and was shocked to see their reaction after the military coup failed. Other Syrian storeowners on Selcuk Street shared similar sentiments, saying they had many Turkish friends who had been welcoming up until the weekend.
Yet not all agreed. Imad Haddad, an Aleppo-native who has been living in Ankara for three years, said he has been harassed throughout his stay in Turkey and at one point, was targeted for robbery because, he said, "they know we are not from here."
"First, Assad gives us problems in Syria, then we come here and Turks give us problems," Haddad told DW. "They don't treat us well. They want to show this is their country and not ours."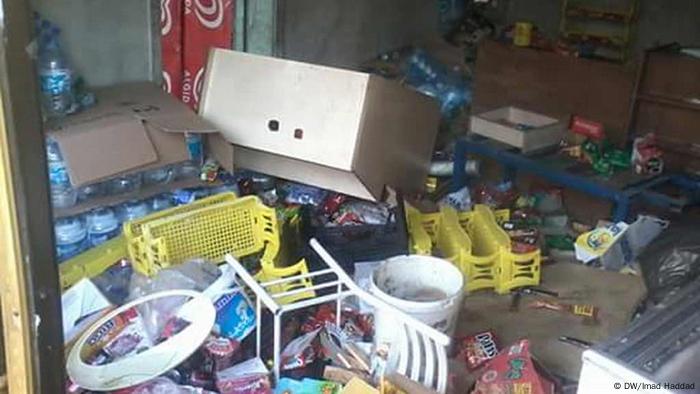 Imad Haddad thought he had escaped the violence in Syria
Similar attacks did not appear to occur in Istanbul's Syrian neighborhoods, but groups of AKP supporters unbound by celebratory rage were reported to have gathered in the city's central Taksim Square, where they threatened unveiled women with derogatory terms and told them "your time will come soon."
Mobs were also videotaped attacking people drinking in the streets of Kadikoy, arguably Istanbul's most secular neighborhood, which is popular among young Turks and foreign residents. As a result, many urban bars and nightlife venues remained closed over the weekend to deter possible confrontations.
'Is this freedom?'
The streets in central Ankara and Istanbul have been occupied by AKP supporters since Friday night's failed coup attempt. Initially, summoned by Erdogan via a now infamous FaceTime speech, followers were asked to take back their country from the coup-plotters by showing their support in public spaces.
Since then, demonstrations have continued on a nightly basis, as Erdogan encourages his supporters to continue showing solidarity in what he calls "democracy rallies" against coup plotters and opposition within the country.
During such events, free water and food is distributed among the thousands of AKP supporters who join together in waving Turkish flags and singing not only pro-government chants, but also Islamic ones, regularly repeating "Allahu Ackbar," or "God is Great" through the night.
While these rallies have not devolved into the levels of violence seen over the weekend, their focus on the AKP party and Islamic conservatism has disenfranchised other, more secular Turks, as well as, minorities and refugees living in urban areas.
Back in Onder, Ammar Assaf, a 20-year-old chemistry student from Aleppo, said he didn't know what to expect next as he could no longer trust Turks living in his neighborhood. He spoke while he fixed the metal gates that had been torn off his mobile service shop. Next door, his friends were rebuilding the storefronts of a Syrian bakery and grocery store.
"The government told us we would live in freedom here," Assaf said. "Our whole street's been destroyed. Is this freedom?"