A large majority of Swiss citizens voted on Sunday against an initiative that would have seen the national broadcaster, the Swiss Broadcasting Corporation (SRG SSR), lose its funding through license fees, projections of referendum results showed.
At least 71 percent of people to reject the initiative, according to final results posted by the Federal Chancellery of Switzerland.
The proposal to see the SRG SSR lose taxpayer funding, named the "No Billag" initiative in reference to the firm that collects the license fee, had support largely from young Swiss, who tend to consume media via the internet rather than from radio or broadcast networks. "No Billag" was led by the youth wing of the libertarian Free Democratic Party (PLR), but also had support from Switzerland's largest party, the nationalist and anti-migrant Swiss Peoples Party (UDC).
Backers of the initiative argued that the SRG SSR was anachronistic and out of step with modern media consumption habits.
The SRG SRR, which is headquartered in the capital, Bern, delivers news in the country's four official languages — German, French, Italian and Romansh. Its supporters see the broadcaster as a guarantee that all Swiss residents receive important public information without any linguistic barrier, thus fostering national unity.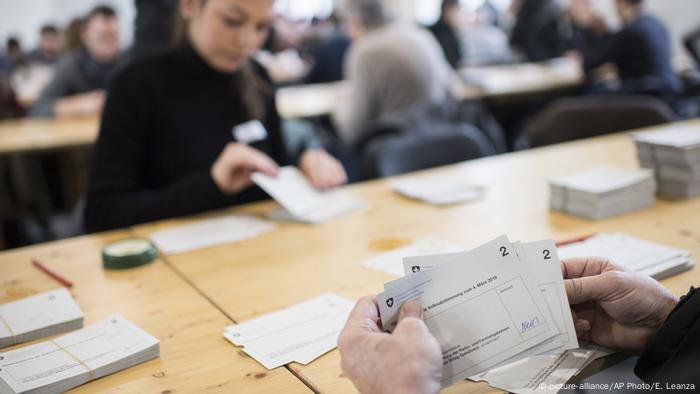 Such referendums are held four times per year in Switzerland
'Minorities disadvantaged'
The SRG SSR received about 1.2 billion Swiss francs (€1.04 billion, $1.3 billion) from the license fee last year, with taxpayers paying 451 Swiss francs (€390, $482) annually. It makes up the remaining quarter of its funding through sponsoring and advertising.
Critics of the "No Billag" warned that a media environment driven by profit would mean that programming would largely target German-speaking areas, which is where most wealth is accumulated.
They said the poorer French-speaking and Italian-speaking regions would inevitably be disadvantaged in their media access.
The referendum took place within Switzerland's system of direct democracy, in which proposals are put to a national vote four times a year.
tj/jlw (AFP, dpa)
DW editors send out a selection of the day's hard news and quality feature journalism. You can sign up to receive it directly here.