Internet users across Sweden may soon have a little more anonymity online as this week, members of Sweden's controversial Pirate Party launched the Pirate ISP, or internet service provider.
The company would be just like any other internet service provider, except that its leaders say that their service would offer more anonymity by not storing its users' Internet Protocol (IP) addresses, a unique identification number for any computer, mobile phone or other device on the Internet at any given time. IP addresses have been used by law enforcement around the world to identify people who are downloading illegal copies of media or who are violating copyrights online.
"We want to make more of a political statement about which internet service provider you use," said Gustav Nipe, the Pirate ISP's 21-year-old CEO, in an interview with Deutsche Welle.
Nipe and around 90 percent of the dozens of the company's first test customers in the city of Lund are members of Sweden's Pirate Party. The party, according to its website, stands for reform of copyright law, abolishing the patent system, and the right to privacy.
But critics argue that the Pirate ISP is merely trying to find a legal means to conduct illegal activity - largely by providing an anonymous way for people to share illegal files like films, music and software, online.
Pirate Party critics unconcerned
"It doesn't matter," said Henrik Ponten, an attorney with the Swedish Anti-Piracy Bureau. "Every month something happens like this. Everyone from the pirate side is trying to hide themselves."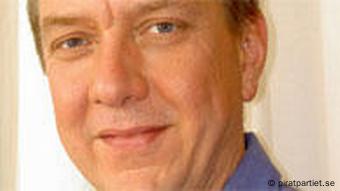 Christian Engstrom is one of two Swedish Pirate Party MEPs currently in Brussels
The Pirate Party has recently affiliated itself with The Pirate Bay, a website that links to BitTorrent files that can be used to downloaded illegal copies and other pirated media. The Pirate Bay's Swedish founders were found guilty last year of providing assistance to copyright infringement and were sentenced to a year in prison and a fine of over three million euros. They are currently appealing this decision.
Earlier this month, Pirate Party leaders said that if they were to win seats in Sweden's Parliament this fall, they would host the Pirate Bay website from within Parliament, thereby shielding it from further prosecution. Sweden's Pirate Party does not have any members of parliament in Sweden, but it does have two MEPs in Brussels.
Ponten believes that the Pirate ISP will be found illegal as all ISPs must turn over IP addresses when asked for them by law enforcement. But, it remains unclear what will happen if the Pirate ISP has no such data to begin with.
Even if the company is found to be within the law, he said, Swedish society will not stand for it.
"If they are successful, it means that everyone who does something criminal will be drawn to them," he said. "If that is the case, then that's not just a problem for us, that's a problem for everyone. That will be a strong reason for society to do something about the internet service providers since society will never accept that an ISP would be a safe harbor for criminal activity."
But the Pirate ISP's young CEO says that his company is not trying to promote any illegal behavior.
"Pirate ISP is not about file-sharing, it's being proactive against the Data Retention Directive," Nipe said.
The Data Retention Directive, more formally known as Directive 2006/24/EC, is a piece of European Union legislation passed by the European Parliament in 2006. The directive requires that member states store telecommunications data for six to 24 months, including IP address and time of every email, phone call and text message.
The directive must now be passed by each of the member states, a process that is still ongoing. Some EU member states, including Romania and Germany, have declared their national laws attempting to comply with the directive as unconstitutional. By contrast, Sweden's is expected to come forward in the fall, around the same time as the country's parliamentary elections.
Legal fight looming
According to industry watchers, the Swedish Pirate Party and Pirate ISP, it seems, may be intentionally setting themselves up for a legal battle.
"The law says that if you have the information as an ISP you are obliged to give it out but if you don't have it then you cannot give it," said Maerten Schultz, a law professor at Stockholm University, in an interview with Deutsche Welle. "And they are not obliged as of yet to keep this information."
But that may change if the data retention law does pass the Swedish Parliament later this year.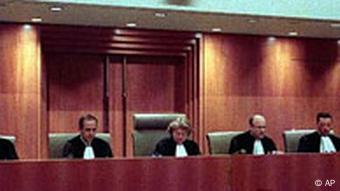 The European Court of Justice in Luxembourg may take up a future case over conflicting privacy and data protection laws
Schultz added that one legal argument could be made that the future data retention law could be in conflict with Article 8 of the European Convention on Human Rights, which guarantees all European citizens the right to a secure and private life.
If what you're looking for is a constitutional challenge, that's exactly how you would go about it," said Danny O'Brien, the internet advocacy coordinator with the Committee to Protect Journalists. "You want to go in with an existing business and a reason to challenge it. It kind of depends on how the law decides to deal with people who don't comply."
He told Deutsche Welle that this is "exactly the kind of battle that the Pirate Party politicians want to present," and noted that it is difficult for individual citizens to take on European Union directives on their own.
That may be why the Pirate Party and the Pirate ISP are taking this approach.
"The European Court of Justice takes complaints from states, and if you want to trigger that - with the transposition of it in your own country and forcing it to take the matter to the ECJ - then it is actually a pretty plucky and interesting way to go about it," he said.
Author: Cyrus Farivar
Editor: Louisa Schaefer