A survey by the Emnid institute published by the Sunday edition of the mass-circulation Bild newspaper found that a full 21 percent were worried about losing their jobs.
Only 14 percent expected a good year economically, according to the survey carried out among 50,729 respondents in 54 countries between October and December.
Only Germany's immediate neighbors, the Austrians and the Dutch, were more pessimistic than the angst-ridden Germans.
"The Germans are very nervous about the direction the economy will take next year," Emnid head Klaus-Peter Schoeppner told Bild.
Social justice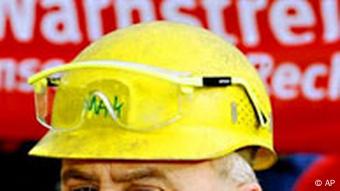 Strikes are a major source of concern in Germany
He predicted that the issue of social justice would dominate the political debate in 2008, with conflict between three main groups: those at the top of the social pile, the middle class and those that felt left out of the country's general prosperity.
According to the survey, two-thirds of Germans predict strikes and other industrial conflict to rise in the year ahead, with only a tiny 3 percent believing relations on the labor front would improve.
A debate about soaring manager pay compared with stagnating -- or even declining -- disposable income for most working people dominated the opinion pages as 2007 drew to a close.
The Emnid survey found the greatest optimists in Hong Kong, where 71 per cent saw an improving economy, followed by Kosovo and Colombia.