According to a survey by insurer DAK, about 800,000 German workers regularly take stimulants in order to enhance their performance on the job.
"This is an alarm signal for us," said DAK head Herbert Rebscher to the Berliner Zeitung daily on Friday, Feb. 13. "Those who take pills as a panacea to deal with every stressful situation have lost the ability to solve problems themselves," he added.
Now that Germany is also undergoing the worst recession in its post-war history, with massive job layoffs across the board, dealing with work stress and ways of coping with it is becoming even more topical.
Academics especially prone to stress
The survey looked at those engaged in jobs involving greater stress, less security and the pressure to achieve results. Academics in particular were prone to use medication to enhance their ability to combat fatigue and increase performance.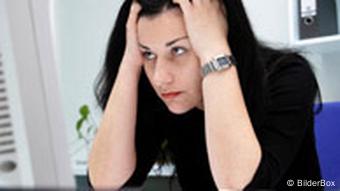 Many doctors prescribe medications to cope with stress
Even children haven't been spared from prescription drugs used to treat attention deficit disorders or depression.
Twenty percent of those surveyed were fully aware of the potential side effects of overdosing on prescription drugs, but said the benefits of medicating themselves outweighed the risks. In 28 percent of all cases, the drugs were recommended by their doctor.
Economic woes lead to more pill popping
The fallout of the world financial crisis is likely to lead to greater insecurity and "a further increase in psychological problems in the world place," according to the German Trade Union (DGB), which is fighting the trend to treat problems with pill popping.
"The DFB is pushing for a reduction in work stress and setting guidelines for a more healthy culture in the workplace," said the trade union for employees in a statement.
Even the employers' trade association BDA is taking note. "The abuse of prescription drugs needs to be seen as a serious problem," Alexander Gunkel, a BDA spokesman, told the Berliner Zeitung.
The study is also being taken seriously by the German Health Ministry. "We are looking very carefully at it," spokesman Klaus Vater told the paper.
In 2008 the numbers of stress-related casualties in the workplace shot up. The number of sick days employees took off from work increased by nearly eight percent from the previous year.