Student demonstrators in Hyderabad escalated their demands Tuesday for the resignation of senior university officials and a cabinet minister they say unfairly punished a student who subsequently hanged himself.
Scores of students have boycotted their classes and are holding a second day of sit-ins in the provincial capital's university. Solidarity protests have also been held this week in the capital New Delihi.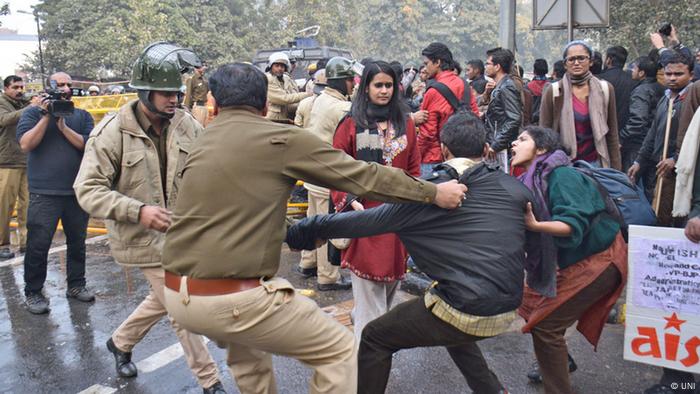 Riot police arrested several students Monday during a solidarity protest in New Delhi
Police say they are investigating whether actions by officials contributed to 26-year-old doctoral student Rohith Vemula's January 17 death by hanging.
"We have had a complaint that the student was pushed to suicide by acts of a minister and some officials of the university, and an investigation is on," police official J. Ramesh Kumar said.
Dalit activists insist Vemula was driven to kill himself after Employment Minister Bandaru Dattatreya - a local parliamentarian - urged the Education Ministry to act against Vemula and four other Dalit students.
"This is not a suicide but a murder," Ravneet Param, a graduate student, told the AFP news agency. "There was too much pressure from the administration on the five students."
Authorities said that at least 37 student protesters had been taken into "preventive custody," but were later released without charge.
Case attracts nationwide attention for Dalits
Vemula had been a member of a group representing Dalits, the lowest caste in India's Hindu caste hierarchy. He and four other members of the Dalit student community had been banned from their university facilities, including the library and dormitory, as punishment for a clash with student members of the ruling Hindu nationalist Bharatiya Janata Party (BJP).
The five students had been cleared of charges of assaulting students in the clash but that decision was reversed in December - allegedly at the behest of senior politicians - and they were suspended.
The officials could face charges for abetting a suicide and under a prevention of atrocities act that is designed to protect low-caste Hindus who have faced historic discrimination and abuse.
Formerly known as untouchables, Dalits are are Forced to clean human excrementfrequently the victims of violence and prejudice. But many Dalits complain that cases of discrimination against them are often treated as a low priority by local authorities.
There are approximately 180 million Dalits among India's 1.25 billion population.
jar/jlw (AFP, PTI, AP)