The world's largest aircraft successfully completed its first test flight on Saturday.
The massive plane with a wingspan larger than a football field took off from an airfield in California's Mojave Desert and conducted testing exercises for 2.5 hours, according to Stratolaunch Systems, the space transportation company behind the project.
Read more: What you can see in space in 2019
During the flight, the Stratolaunch aircraft reached a maximum speed of 189 miles per hour (304 kilometers) and altitude of 17,000 feet (5,182 meters).
The aircraft with a wing span of 117 meters weighs 220 tons, has two connected fuselages and 28 wheels, and is powered by six Boeing 747 engines.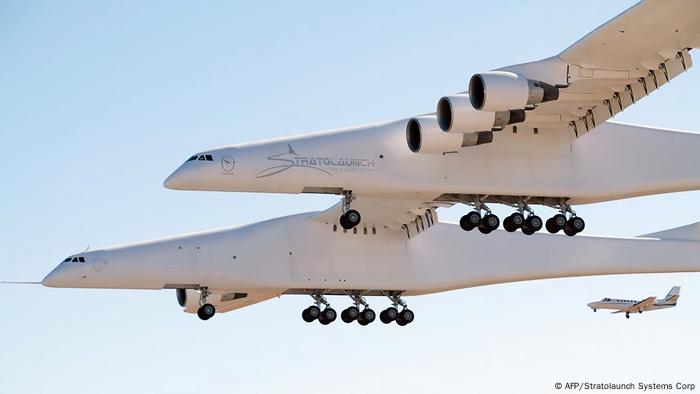 The aircraft's wingspan is almost double that of an Airbus A380.
Stratolaunch is designed to be a mobile platform for launching satellites into space. It may one day also launch passenger shuttles into space.
Read more: Virgin Galactic plane reaches space, lands back on Earth
"Today's flight furthers our mission to provide a flexible alternative to ground launched systems," Stratolaunch CEO Jean Floyd said.
The project was developed by Microsoft co-founder Paul Allen, who died last October.
"We all know Paul would have been proud to witness today's historic achievement," said Jody Allen, chair of Vulcan Inc. and trustee of the Paul G. Allen Trust. "The aircraft is a remarkable engineering achievement and we congratulate everyone involved."
Every evening, DW's editors send out a selection of the day's hard news and quality feature journalism. You can sign up to receive it directly here.