Francisco Mena is currently in high demand. Our meeting on the terrace of a Spanish bar in the picturesque village of San Roque near Algeciras is interrupted several times by phone calls. Three cell phones are on the table.
"I've just had the BBC on the line and on Monday I'm meeting the Spanish interior minister," the 58-year-old says proudly.
For more than 20 years, the Andalusian citizen has been fighting drug dealing in his home province of Cadiz, situated at the bottom tip of Europe, with his organization "Por tu seguridad, por la de todos" ("For your safety and everyone else's").
"Here Spaniards and Moroccans work together with anyone who wants to earn fast money here." Mena's organization helps addicts break free of the vicious cycle of drug dependency.
Hundreds of kilos of marijuana arrive on the beaches of the neighboring small town of La Linea on a daily basis, brought in speedboats from Morocco. Some days it's even tons. According to Mena, Spain has become a drug hotspot.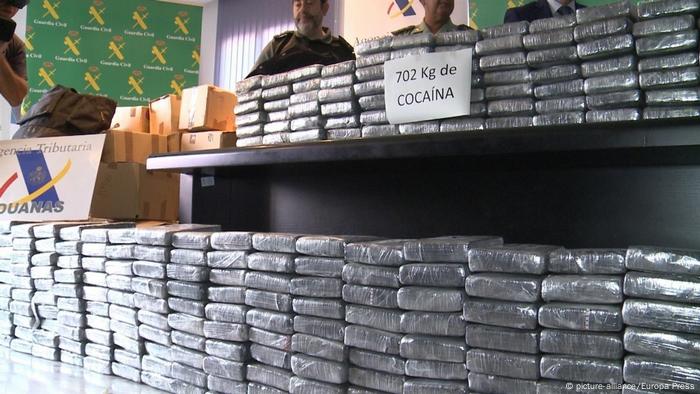 More than 700 kilograms of cocaine were found in Algeciras last December - Spain's biggest find in 18 years
"In addition to the international drug trade from Latin America and cannabis from Morocco, we also have tobacco smuggling with Gibraltar," Mena explains. He reckons at least 400 extra police officers are needed to deal with the growing pressure on the region's security.
Until now, business has largely taken place in secret. In March of this year, however, the situation in La Linea worsened when hashish dealers suddenly began throwing stones at police who tried to stop them from packing the goods into Land Rovers on the beach. When the Moroccan boss was taken to the local hospital during another police intervention, 30 masked and armed gang members took him away.
"It's reminiscent of drug cartels in Colombia," Mena says. He's nervous, smokes, keeps getting up, then sitting down again.
Sun, thrills and poverty
The first casualty occurred in June, during the pursuit of a tobacco smuggler in the nearby peninsula of Gibraltar. There, a pack of cigarettes costs €3 ($4.70) instead of the €5 they usually cost in Spain. A 46-year-old policeman was hit by a car. Ever since, international attention on the region has increased, after being long neglected by the government in Madrid.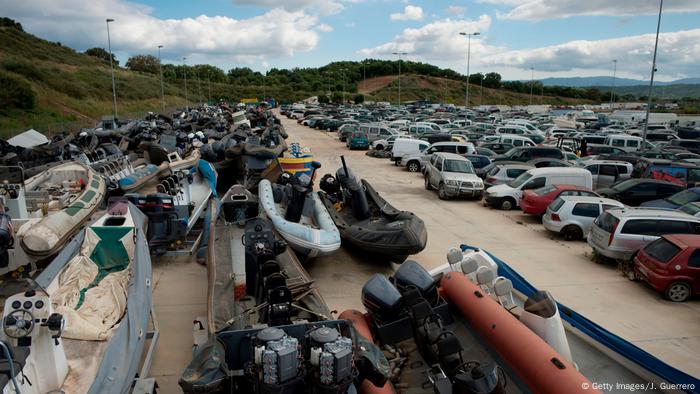 Boats and vehicles seized by police during operations against drug dealing and trafficking
In Algeciras and La Linea, 35 percent of the working-age population is unemployed. In La Linea, a city with 64,000 inhabitants, around 3,000 people rely on an income from drug dealing and smuggling. There are 100 different bosses, organized into 30 gangs that share the territory at the strait to Gibraltar. The roads are bumpy, plaster is crumbling off facades, and cars are old and dirty.
Local residents, but also many African migrants, are looking in vain for work. "Many become dealers' henchmen because they have no alternative," says Mena. In May, he was invited to present the region's diverse security problems to the parliamentary commission on internal security.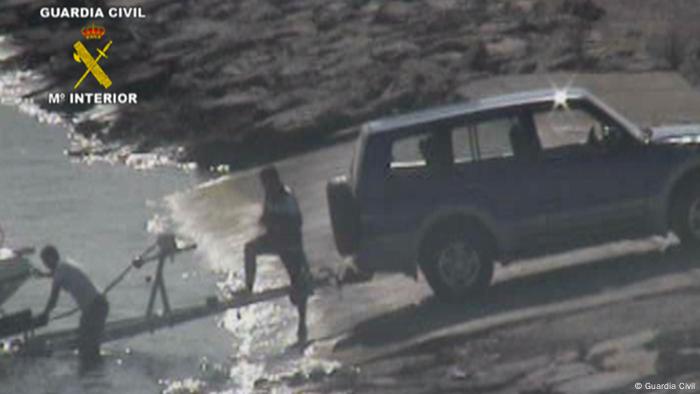 Drug dealers on the beach are increasingly common in Algeciras
Since the turn of the century, the situation has continuously deteriorated. In the meantime, La Linea's dream beaches are being used almost exclusively by locals. There are neither hotels nor holiday apartments with sea views. None of the beachgoers get lost in the bars, where local patrons are already drunk in the middle of the day.
La Linea's mayor wants more money
Spain's Interior Minister, Fernando Grande-Marlaska, has experienced the severity of the situation first hand. When he arrived in La Linea on July 9, he witnessed a wild chase on the beach, which included the use of helicopters.
"The dealers don't even wait until dark anymore," says Mayor Juan Franco. He hopes that the Spanish Interior Minister will keep his word and send 400 urgently needed additional police officers to La Linea.
On a walk through the city, the deserted plots of land next to the beach, covered with garbage, are noticeable. Some of these plots serve as pastures for horses. Mayor Franco is desperate: "Anywhere else, these plots would be building land worth millions. But private companies don't want to invest here under these circumstances," he says.
Franco sees illegal immigration across the Strait of Gibraltar as another factor fueling his city's insecurity.
"At the moment, thousands of Africans who want to go to Europe are waiting in Morocco. Here, on the southern border of the European continent, we have the feeling that we are sitting on an enormous powder keg — and no one is helping us.