Kim Martin, cousin of the slain model Reeva Steenkamp tearfully advocated on Thursday that Oscar Pistorius should go to jail and "pay for what he has done". She ardently criticized the arguments of the Pistorius' defense team against his imprisonment, saying: "I feel we need to send a message to society that you can't get away with this."
Pistorius, a double amputee and Olympic sprinter, found guilty of culpable homicide. He had fatally shot Steenkamp on the Valentine's Day of 2013 by firing four shots through a locked toilet door. Pistorius had described the incident as a "devastating accident" and he claimed that he mistook Steenkamp, his girlfriend, as a burglar trying to break into his home.
Martin said: "My family are not people who are seeking revenge; we just feel that to take someone's life, to shoot somebody behind a door, that is unarmed, that is harmless, needs sufficient punishment."
Steenkamp's family was present in the court despite the fact that Barry Steenkamp, father of the slain model, had recently suffered two near-fatal strokes. As Martin gave emotional details of the childhood of the 29-year-old law graduate and model, family members were sometimes in tears.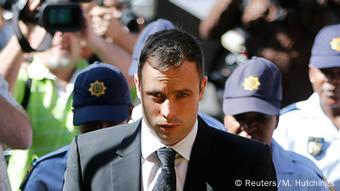 Defense lawyers of Pistorius have argued a jail term would "break" him, and said imprisonment would be harmful to his current emotional state. They called for three years of house arrest with community service. Referring to alleged violence and gang rapes in prisons, Annette Verger, a probation officer stated that Pistorius would be "a lot more vulnerable than the normal man".
But, Chief Prosecutor Gerrie Nel said: "if the court sentence is too light, and society loses trust in the court, they will take the law into their own hands."
Judge Thokozile Masipa said Pistorius would get his own cell with a cupboard, pillow, blanket, access to a bath or shower, to activities such as crafts or gardening, and to health care and counseling, if he were sent to jail.
The hearings continue.
DT/AJ – AFPE, AP