After the events of New Year's Eve in Cologne, where groups of men sexually assaulted and robbed women near the city's main train station, a lot of the blame has been placed on the police by politicians like North Rhine-Westphalia State Interior Minister Ralf Jäger and Federal Interior Minister Thomas de Maiziere.
It's important to understand, however, that there were two different police forces at work that night: the Bundespolizei, or federal police, and North Rhine-Westphalia's state police, the Landespolizei. There were 143 Cologne police officers, who are part of the state police, and 70 federal police officers in the vicinity of Cologne Cathedral and the nearby central train station on New Year's Eve.
The two forces have distinctly different responsibilities.
State police - outside the station
Each of the 16 German states has its own police force, which is under the control of the state's interior minister. In North Rhine-Westphalia, the headquarters of the state police is located in the capital, Dusseldorf, and there are roughly 50,000 employees in total. They are divided up among the state's local district offices. Cologne police work out of one of those district offices.
Police outside Cologne Central Station were not able to control the crowds
State police officers are supposed to stop or prevent unlawful actions - they are responsible for ensuring safety and security in the state. There is an exception to this, however: they are not responsible for train stations, airports and federal buildings in their state. Those fall under the jurisdiction of the federal police.
The central police office, or "Landesamt für zentrale polizeiliche Dienste," (LZPD) is a vital part of the state police and also falls under the responsibility of the state interior minister. The LZPD's tasks include coordinating state police operations between several districts, which means they are in charge of reinforcements. When a local district office needs more police officers for a certain event, they turn to the LZPD, which either approves or denies the request. The LZPD can also take the initiative and offer to move officers from one local district to another if events require it.
Federal police - inside the station
Federal police secure Germany's borders and coasts and fight organized crime like human trafficking, which has led them to take on a major role in the current refugee crisis.
They also fly helicopter rescues, run the country's special counter-terrorism forces and protect federal buildings. Thomas de Maiziere, Germany's interior minister, is responsible for the federal police.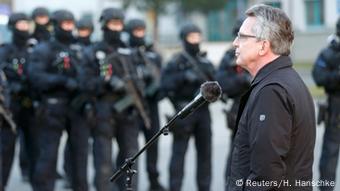 German Interior Minister de Maiziere is responsible for the federal police, including special forces
In addition, federal police are tasked with keeping transportation safe by preventing crime in German airports and train stations. They can support state police with additional manpower to ensure safety during large events or protests.
Chaos inside and outside the station
On New Year's Eve, as the situation around Cologne Cathedral became dangerous - with people throwing fireworks and bottles into the crowd - federal police conferred with state police and helped with the effort to evacuate the area. It was after this evacuation that most of the sexual assaults were reported to have taken place.
Federal officers were also working inside the train station, where chaos reigned as well: a report by a federal police officer that was published by various news media mentions overcrowded platforms, closed-off tracks, public urination and a mob with no respect for uniformed authorities. It also states that the number of federal police officers present was far too small to get the situation under control.
In light of the New Year's Eve assaults, federal police have announced plans to coordinate with state police in investigating such group sexual attacks across Germany.