Knut the baby polar bear has been basking in international adoration since his debut at the Berlin Zoo. Now he's about to do his part in saving the world from environmental catastrophe.
The American publisher Scholastic, which also publishes the Harry Potter books, is to distribute a children's book about the little bear aimed at educating people about global warming.

The book, entitled "Knut: How One Little Polar Bear Captivated the World," is being penned by best-selling author Craig Hatkoff and his daughters Juliana and Isabella and will relate the bear's story -- first in German this summer, then in English in the fall -- along with plenty of pictures.

New York-based Turtle Pond Publications and the Berlin Zoo told the German Press Agency that they had negotiated exclusive publishing rights for Knut and plan a Web site for him this summer along with a DVD.

Unsuspecting environmental activist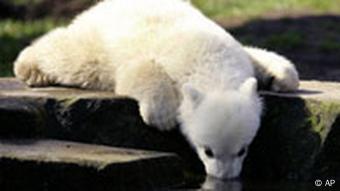 Is all the fame turning Knut into a little Narcissus?
The five-month old bear has been hand-raised by a Berlin zookeeper after being rejected by his mother. He has become a symbol for the plight of polar bears and their habitat, which is under threat by rising global temperatures.

"We are hoping that a little polar bear can help the world de-polarize the complex issues…and raise awareness of the issues in the global climate debate," Hatkoff told Reuters.

The Berlin Zoo has already launched its own campaign called "Respect Habitats.Knut," complete with a Knut logo that is to serve as a seal of approval for measures taken to address climate change and other environmental issues.

Gerald Uhlich, chief executive of Berlin Zoo, told Reuters that part of the book sale proceeds will be contributed to this goal.

"Surely, Knut will win the hearts of millions of readers and raise their awareness to environmental issues across the world," he said in a statement.
Knut is likely unaware of his potential impact on the globe. During an unseasonably warm and dry April, his biggest concern has been keeping cool in his pool.