South Sudanese President Salva Kiir today called on lawmakers to pursue the implementation of a national dialogue plan as his government's top priority. Kiir said that the initiative is part of efforts to restore peace in the country and he challenged critics, saying the initiative is not a trick as some observers had thought.
"We are a government and our business is to work for the unity of the people of South Sudan, protect the sovereignty and territorial integrity of this land and to uphold our constitution and international obligations," he said.
Kiir was speaking to lawmakers, members of his cabinet and diplomats at the opening session of the second South Sudan National Legislature. In his speech, Kiir spelled out other key priorities which include the implementation of the peace agreement, reviving the struggling economy and fixing relations with the international community which he says have not been good in the last three years. The president is also looking to address the depreciating value of the national currency.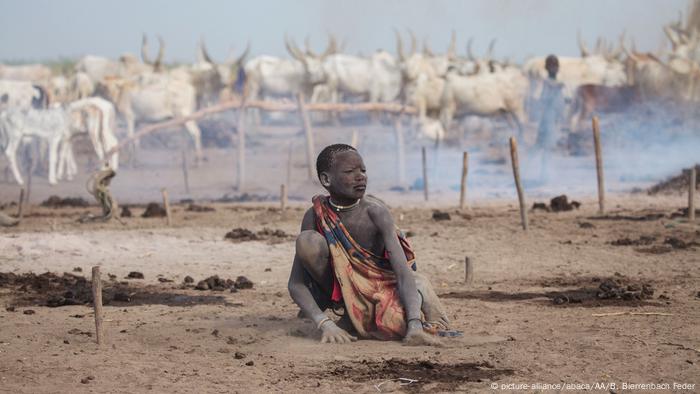 Children are the most susceptible to famine and malnutrition
Struggling with drought
UN aid agencies yesterday declared famine in some parts of South Sudan. But President Kiir emphasized his government is to work closely with all humanitarian partners to allow for the unhindered delivery of life-saving food stuffs.
"The government will ensure that all humanitarian and development organizations have unimpeded access to needy populations across the Country," he said. "The government is aware of the failure of crops last year in the region and so steps are being taken to mitigate a potential famine."
UNICEF said today that up to 1.4 million children are suffering from severe malnutrition and could die this year from famine in countries including Nigeria, Somalia and South Sudan. Marixie Mercado, the head of media for UNICEF, told DW that most of the areas facing famine are in that situation because of political not environmental reasons, South Sudan included.
"Ultimately what these children need are political solutions to the issues that are affecting their countries," she said.
​Fighting broke out in South Sudan three years ago. Although a peace deal signed in August 2015 could neutralize the conflict, little has been realized. Fighting rather spilled to some parts of the country, worsening humanitarian and economic crisis across the nation. ​