A famine has been declared in parts of South Sudan, a nation ravaged by more than three years of civil war, the government and three UN agencies said on Monday.
"A formal famine declaration means people have already started dying of hunger. The situation is the worst hunger catastrophe since fighting erupted more than three years ago," said a statement from the World Food Programme (WFP), children's agency UNICEF and the Food and Agricultural Organisation (FAO).
The declaration covers two counties of Unity State in the northern-central region of South Sudan. The UN agencies said some 100,000 people were facing starvation in the area, while a further million people were threatened by famine within the coming months.
Farming paralysed by conflict
According to the government and aid groups, a total of 4.9 million people - more than 40 percent of the country's population - are in urgent need of food and agricututre aid, with that number expected to rise to 5.5 million by July, when the lean season reaches its height.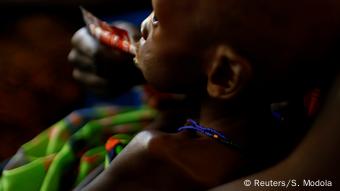 UNICEF estimates that 1 million children are acutely malnourished in South Sudan
Farming in the world's youngest country has been hampered or made impossible since a military conflict broke out in December 2013 after President Salva Kiir accused his former deputy Riek Machar of plotting a coup against him.
The violence, which has killed tens of thousands and displaced 3.4 million, initially took place along ethnic lines, pitting Kiir's ethnic Dinka supporters against the ethnic Nuer followers of Machar. Since the conflict erupted, however, it has engulfed other parts of the country and come to include other ethnic groups and grievances.
The country is also in economic crisis, with inflation rocketing up 800 percent over the past year, making food unaffordable for many families.
Man-made famine
UN official Joyce Luma from WFP blamed the country's politicians for the starvation crisis affecting South Sudan.
"This famine is man-made," she said. "There is only so much that humanitarian assistance can achieve in the absence of meaningful peace and security."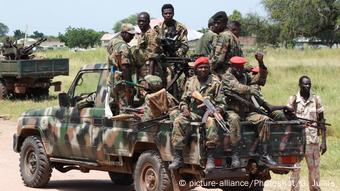 The conflict shows no signs of ending soon
The UN has previously warned of potential genocide and ethnic cleansing, and there is no peace in sight, with peace talks so far failing to stop the fighting.
Although South Sudan's hunger crisis is largely a result of its conflict, millions more across the Horn of Africa are also facing the threat of famine amid a devastating drought resulting from two failed rainy seasons.
tj/rc (AFP, AP, dpa)