An ally of new President Maithripala Sirisena on Sunday told reporters that Sri Lanka's former leader had sought to use the military to cling to power after his surprising defeat at the polls this week.
"People think it was a peaceful transition. It was anything but," Mangala Samaraweera, who is expected to be named as Sirisena's foreign minister, told a press conference.
Mahinda Rajapaksa (pictured at top of story), South Asia's longest-serving leader before Thursday's defeat at the polls, was broadly praised for conceding defeat on Friday before the final results were announced.
"The first thing the new cabinet will investigate is the coup and conspiracy by President Rajapaksa. He stepped down only when the army chief and the police Inspector General [N.K. Illangakoon] refused to go along with him," Samaraweera said.
The head of the army was not immediately available for comment, but military spokesman Ruwan Wanigasooriya said that he was "not aware of such a coup attempt."
Samaraweera said that diplomatic pressure had also been brought to bear on the outgoing president.
"Some world leaders also spoke with President Rajapaksa and prevailed on him to ensure a peaceful transition. I don't know who had spoken [to him], but we know some leaders did talk to him."
Sirisena pledges end to corruption, nepotism
When Rajapaksa called the elections last November, he appeared likely to triumph at the polls. However, his changes to the country's constitution, allowing him to stand for a third term as president, proved unpopular. Sirisena, who pledged a raft of political and economic reforms in his campaign, promised a new era of religious harmony and political freedom in a televised address to the nation on Sunday.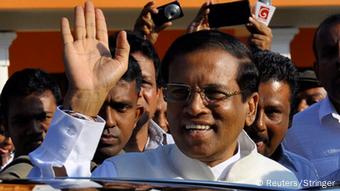 Sirisena also thanked Rajapaksa on Friday for conceding defeat
"While protecting the country's main religion, Buddhism, we also protect the rights and freedom of Hindu, Muslim, and Catholic people in practicing their religion and create consensus among them to build up this country," Sirisena told a large crowd in the highland jungle city of Kandy.
Pope Francis is to visit the country on Tuesday, with the pontiff expected to bring a message of inter-faith dialogue.
Sirisena also used his short speech to revisit election promises such as keeping the peace and tackling corruption and nepotism.
"I consider it is our duty and responsibility to ensure an unbiased and impartial police service to maintain law and order," he said. "I will take all the steps to eliminate corruption, loopholes and bribes completely from this country."
'Full freedom' for media outlets
Rajapaksa spent almost a decade in office as Sri Lanka's president, ending Sri Lanka's 26-year civil war by defeating the Tamil Tiger rebels in 2009. He was often criticized, however, for the conflict's brutal end, and for overseeing an era of censorship, attacks on religious minorities and persecution of political rivals and journalists.
A spokesman for Sirisena has already said that he had ordered the country's Telecommunication Regulation Commission to lift a ban on all news websites blocked under Rajapaksa.
"They will be given full freedom," the spokesman said, while another lawmaker, Rajitha Senaratne, urged "all the exiled journalists and dissidents to return to this country to work for this mother land."
Sirisena, like Rajapaksa, is a member of Sri Lanka's majority Sinhalese population. As Rajapaksa's acting defense minister in the closing stages of the civil war, Sirisena is also considered unlikely to allow a UN war crimes probe in the country.
msh/tj (AFP, AP, Reuters)