In the country's tightest presidential race in over a decade, opposition candidate Sirisena defeated longtime president Mahinda Rajapaksa, ending the Sri Lankan leader's 9-year rule which critics describe as having been increasingly marked by nepotism and corruption.
While Rajapaksa won 47.62 percent of the vote, Sirisena was elected president of the South Asian nation on Friday, January 9, after winning 51.28 percent of the vote. About 75 percent of the 15 million registered voters cast their ballots. The 63-year-old seasoned politician and his new Prime Minister Ranil Wickremesinghe both took the oath of office in Colombo's Independence Square just hours after Rajapaksa conceded defeat.
The election results came as a surprise to many in the island nation of 21 million. Only two months ago, and nearly two years ahead of schedule, Rajapaksa had called early elections in an attempt to seek a historic third term amid signs of fading popularity. But any hope for an easy victory would soon vanish. In a surprise move just one day after the announcement, Sirisena defected from the ruling party, dealing a heavy blow to his former chief's electoral ambitions.
Sirisena immediately went on the offensive, accusing Rajapaksa's family of having taken "control of the economy, power and the party" and claiming that the country was moving "towards a dictatorship."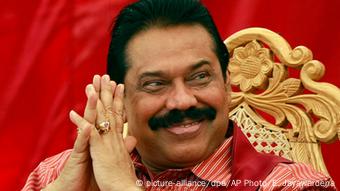 Rajapaksa's defeat came as a surprise to many in Sri Lanka
The candidacy of Sirisena, who until then had also been the General Secretary of Rajapaksa's own Sri Lankan Freedom Party (SLFP), split the ruling party as he was joined by a number of other senior SLFP members who assembled a formidable opposition coalition.
Backed by the main opposition United National Party (UNP), the 63-year-old won many supporters among disaffected Sri Lankans. Analysts believe it was the strong voter turnout, especially in the Tamil and Muslim minority communities - which resented Rajapaksa and saw Sirisena as an alternative to the longtime leader - which ultimately led to the change of government.
Who is Sririsena?
Maithripala Sirisena was born on September 3, 1951, in the village of Yagoda, north of Colombo, but moved in the 1950s with his family to the farming district of Polonnaruwa under a government agriculture development project.
An agriculturalist by training, he also has a degree in Political Sciences and became a village official in 1970's, joining politics full time in 1978. But Sirisena - who comes from the country's majority Buddhist Sinhala group - only joined mainstream politics in 1989 when he was elected to parliament.
Sirisena doesn't speak English and is always seen wearing the national dress. According to Indian news agency PTI, the politician has no background of hobnobbing with the Colombo elite and socialites. Before running for president he served as health minister in Rajapaksa's government and was second-in-command in Rajapaksa's SLFP party.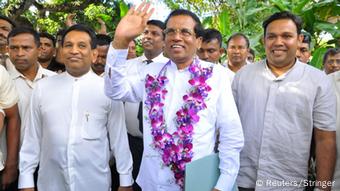 Sirisena joined mainstream politics in 1989
Alan Keenan, senior Sri Lanka analyst at the International Crisis Group (ICG), says that Sirisena's national profile was not terribly high before taking on Rajapaksa, and that little is known publicly about his decision-making style.
Nonetheless, he added, Sirisena's political history seems largely free of allegations of corruption and his calm, measured and principled campaigning impressed many.
A self-described socialist
The 63-year-old has described himself as a socialist, vowing to limit the president's executive powers, root out corruption and nepotism, and strengthen parliament and the judiciary. With his campaign promises, Sirisena tapped into growing resentment over what many saw as Rajapaksa's increasingly authoritarian rule. The farmer-turned-politician also pledged to allow an independent investigation into alleged crimes committed during the country's decades-long civil war.
For more than 30 years, Sri Lankan armed forces fought against militant separatists seeking to create an independent state for the Tamil-speaking minority in the north and the east of the island nation.
Only in May 2009 did the central government in Colombo, led by the ethnic Sinhalese majority, manage to recapture the last area controlled by the Liberation Tigers of Tamil Eelam (LTTE), putting an end to a civil war that had cost the lives of more than 100,000 people, according to United Nations estimates.
Daunting challenges
For Sirisena, the new position comes with a host of daunting challenges. In the Tamil-dominated north alone, there are a number controversial issues, ranging from the militarization of the region, and an absence of land rights and job opportunities, to demands for devolution of powers to the province and meaningful steps for reconciliation.
Analyst Keenan believes that during his initial months in office, Sirisena will likely rely on the team of senior politicians who helped craft his campaign - including former president Chandrika Kumaratunga and his PM Wickremasinghe.
"It remains to be seen to what extent Sirisena will be able to carve out his own style of governance even as he pursues his central campaign pledge of reducing the powers of the executive presidency," said the expert.
The new president - who ran for office on a platform of constitutional reforms - has vowed to restore the institutions of governance that were undermined during the Rajapaksa rule. The proposed reforms, to be enacted in the first 100 days of Sirisena being in office, focus on the abolition of the executive presidency and the re-establishment of independent commissions to oversee the police, civil service and judiciary and to monitor human rights.
Difficult reforms
However, the new leader may have trouble finding the two-thirds majority in parliament needed for constitutional reforms, or winning such a majority through the election of a new parliament. "Should this be the case, his coalition's reform agenda would face serious problems," Keenan told DW.
In order to win the necessary two-thirds majority Sirisena will have to win the votes of large numbers of SLFP lawmakers who backed Rajapaksa. His ability to gain their support will depend on the outcome of what is expected to be a major battle for control of the SLFP, with Sirisena and Kumaratunga attempting to wrest control of the party from former-president Rajapaksa and his family, said Keenan.
Assuming the necessary hurdles are overcome, the ICG analyst believes that the deep divisions within his coalition will make it difficult to move forward on Sri Lanka's many pressing policy issues - particularly with regard to post-war reconciliation, accountability and power-sharing, as well as the need to offer economic relief to members of all communities.
Finding a widely endorsed solution to the ethnic conflict might prove particularly difficult, as the differences between the parties - a coalition of ethnic, religious, Marxist and centre-right factions - are great.
Economic uncertainty
And then there is the economy. The country has witnessed rapid growth since the end of the civil war, expanding at an annual average rate of more than seven percent. While the previous government turned mainly to China as a key source of financial support and development, the generated wealth has not been equally distributed and Sirisena is expected to find ways of relieving the economic pressures felt by many Sri Lankans of all communities.
"The rising cost of living, particularly for fuel and electricity and basic food items, is one of the biggest grievances of many voters, but it remains to be seen whether the economic policies of Sirisena's UNP-led coalition will be able to provide the desired relief," said Keenan.
Krystal Tan, Asia Economist at Capital Economics, says that while differences over economic policy were not a major theme during the electoral campaign, the change in leadership nonetheless creates significant uncertainty. The reason for this is that it remains unclear whether Sirisena will muster the parliamentary support needed to implement any major policy changes.
But the analyst also stated there are reasons to be positive. "As long as peace prevails, the important tourism sector should continue to flourish," said Tan. The UK-based economic consultancy forecasts a GDP growth of 7 percent for Sri Lanka both this year and next.