The weekly news magazine Der Spiegel has decided to omit a controversial book from its bestseller list. Der Spiegel's deputy chief editor Susanne Beyer explained in a statement on Tuesday that Rolf Peter Sieferle's collection of essays, "Finis Germania," (Latin, translating as The End of Germany), a book she had previously described as expressing "far-right views, anti-Semitism and historical revisionism," should not be further promoted through the magazine.
A week ago, "Finis Germania" was listed as the sixth bestselling nonfiction book in the printed version of Der Spiegel. However, the book, criticized for its far-right conspiracy theories, was not to be found in the current issue's ranking.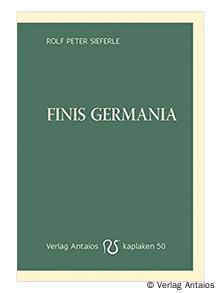 The cover of the controversial book
The list does not leave a gap where the controversial collection of essays might have landed, but rather simply ranks 20 other bestselling titles.
Publicity through another book list
The work obtained unusual publicity in June when it landed on Germany's prestigious Nonfiction Book of the Month list, which has been published for over 20 years by public broadcaster NDR and newspaper Süddeutsche Zeitung.
The book had actually obtained a special recommendation from another Spiegel reporter, Johannes Saltzwedel, who was a member of the jury selecting the works, but who stepped down from the jury after he was castigated for having given all of his points to "Finis Germania."
Read more: New strategies for far-right publishers in Germany
Without her colleague's recommendation and the ensuing controversy, "Finis Germania" would probably never have become a bestseller, stated Beyer.
Interventions are rare, but possible
Der Spiegel's bestseller lists are compilations based on sales numbers; the magazine has rarely intervened in these rankings, but "because they are perceived by many as recommendation lists, interventions are possible," wrote Beyer.
"Finis Germania," written by the late historian Sieferle (1949-2016) before his death, has been published by a "small publishing house known for its far-right publications," continued Beyer, referring to the publisher Antaios. "In this respect we have a particular responsibility. That's why we have omitted the book in [our latest] issue."
eg/kbm (with dpa)