A Spanish court on Thursday sentenced five men to nine years in jail for "sexual abuse" instead of the more serious charge of rape for their role in a 2016 incident at Pamplona's running of the bulls festival.
The fact the men were cleared of gang rape sparked major protests in Spain and condemnation of "patriarchal justice."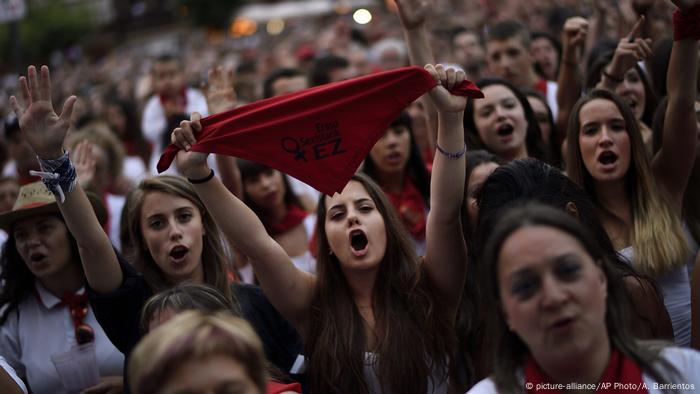 Details of the case
Five friends from Seville, including a former policeman and a former soldier, aged 27 to 30, traveled to Pamplona's San Fermin festival in July 2016.
The group offered to accompany an 18-year-old woman to her car, but seven minutes later they dragged her into a building, assaulted her and took her phone.
The woman, whose identity has been protected, was found crying by two people who called police when she said she had been sexually assaulted.
The men later shared footage of the incident and bragged about it in a Whatsapp group named "La Manada," or "The Pack."
The men argued the victim had consented, producing detectives' reports on the victim's behavior after the incident including her attendance at a party.
The men were found guilty of "sexual abuse," meaning there was no "violence or intimidation" in the case.
Read more: What do Europeans consider sexual harassment?
Massive protests
The decision sparked immediate condemnation, with demonstrators assembling outside the court and wider protests planned for later in the evening.
"I am outraged that after a gang rape you must suffer the violence of patriarchal justice," Barcelona mayor Ada Colau said in a Twitter message addressed to the victim.
Spain's Deputy Prime Minister Soraya Saenz de Santamaria said the judges' decision should be respected, but that authorities must analyse what happened "to avoid such behaviour happening again in this country."
Former Secretary of State for Equality Soledad Murillo wrote in El Pais newspaper: "If five people surrounding a girl is not aggression, the question has to be what is wrong with our criminal code?"
National Police also shared their support support for the victim, saying in a Tweet: "No is no - we are with you."
Read more: More than a quarter of Europeans say rape can be justified
Increasing problem: The case sparked outrage in 2016 amid concerns over increased reports of sex attacks at the annual festival the mistreatment of women in general. The ruling is unlikely to mitigate that anger.
What is Spain's "sexual abuse" charge? The charge is normally used in cases of sexual activity between underage partners and those who are regarded as unable to consent to sexual contact, including people who are severely handicapped or under the influence of drugs or alcohol.
What is San Fermin festival? The festival is a week-long party in the province of Navarre, drawing tens of thousands of tourists. It is most famous for its Running of the Bulls event but is well known for its drinking and revelry at the huge street parties, processions and firework displays.
Both sides to appeal: The prosecution, who asked for 20 years, and the defense have both announced they will appeal the decision.
aw/rt (AP, Reuters, AFP)