Mariano Rajoy's People's Party (PP) was the biggest winner in Spain on Sunday night. The incumbent prime minister secured 137 seats in parliament, reinforcing the conservative party's grip on power. The opposition Socialists held second position, obtaining 85 seats, the worst result in the PSOE's recent history, but still better than expected. Contrary to all pollsters' forecasts, anti-austerity Unidos Podemos came in third with 71 seats.
The most likely outcome is a weak government led by Mariano Rajoy, according to Antonio Barroso, deputy director of research at the London-based think tank Teneo Intelligence. While the PP won 14 more seats than in the December election, the party has few options to form a coalition. A PP-led cabinet is "the only alternative to a stalemate that would lead to a third general election round in less than a year," Barroso said.
A coalition of the left is out of the question, Barroso pointed out: "An eventual left-wing alliance between Unidos Podemos and PSOE would need the support of Catalan pro-independence parties, which is anathema to the Socialists."
That leaves the Socialists holding the key to Rajoy's government. As it is likely Unidos Podemos and the Catalan and Basque pro-independence parties will vote against a further term for the conservative leader, Rajoy would need the PSOE to abstain to avoid a third round of elections. Forcing a hung parliament would be very unpopular, Barroso commented, which could "allow the other parties to justify their abstention in an investiture vote to facilitate a PP administration."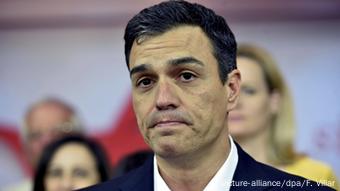 Sanchez's Socialists unexpectedly managed to defend second place.
The morning after, people in Madrid were divided about whether Socialist leader Pedro Sanchez would allow such a scenario. "I think PSOE will abstain and allow Rajoy's second term," said Francisco Javier, a computer engineer, who was unhappy with the results. "This is the worst possible outcome, and it should take a toll on PSOE if they let Rajoy govern again.
Aurora, a librarian, was not happier, but said she saw Spain heading to a third round of elections: "If the parties are coherent with what they said during the campaign, there's no possible government. If that happens, it can affect PSOE. Otherwise, we'll remain as always."
Bad times for new parties
Unidos Podemos and Ciudadanos were the great losers in the election. The anti-austerity party led by Pablo Iglesias failed to capitalize on his coalition with eco-communists Izquierda Unida. Although the left-wing group didn't lose any mandates, exit polls had said Iglesias would win around 90.
Albert Rivera's Ciudadanos lost eight of its 40 seats in parliament. The liberal group, which based its campaign on Rivera's intention to become the middleman between Sanchez and Rajoy and to keep Iglesias out of the president's seat, has been seriously affected by Spanish electoral law, which favors rural districts. The election result leaves Ciudadanos essentially irrelevant.
Iglesias' Podemos failed to unseat the Socialists as the biggest Spanish leftist force
The new members of parliament will take office within the next 25 days. Then the king of Spain will hold a round of talks with the leaders of all parties that hold at least one seat. It is up to him to choose a candidate to become prime minister. That person must then gather 176 favorable votes from the 350 members of parliament.
If the candidate doesn't attain an absolute majority in the first round of voting, a second vote will be held 48 hours later in which a simple majority would suffice for the prime minister to be appointed. This is when a PSOE abstention could become relevant to a second term for Rajoy.
If nobody gathers enough support to be elected, a new round of elections will take place, most likely in November or December.