Eduardo Vela, an 85-year-old former gynecologist, was found guilty by a court in Madrid on Monday of having taken Ines Madrigal, now 49, as a newborn baby from her biological mother and given to another woman. The incident allegedly took place in 1969 while he was working at the now-disused San Ramon Clinic in Madrid.
Vela, whose trial opened three months ago, was found guilty of falsifying official documents, illegal adoption, unlawful detention and certifying a non-existent birth.
Prosecutors had demanded he be jailed for 11 years. However, the court cleared the 85-year-old of the charges because the statute of limitations had expired.
Madrigal described the verdict as "bittersweet," and said she planned to appeal it at the Supreme Court.
"This is a milestone at a European level, perhaps even internationally — it is the first sentence concerning stolen babies. It recognizes that there was a robbery, that I was stolen from my mother. But there's something we don't agree with, and that is that he has been acquitted."
She said she hopes her case will help open "thousands of cases that are closed."
Read more: Spanish families maintain babies were stolen under Franco regime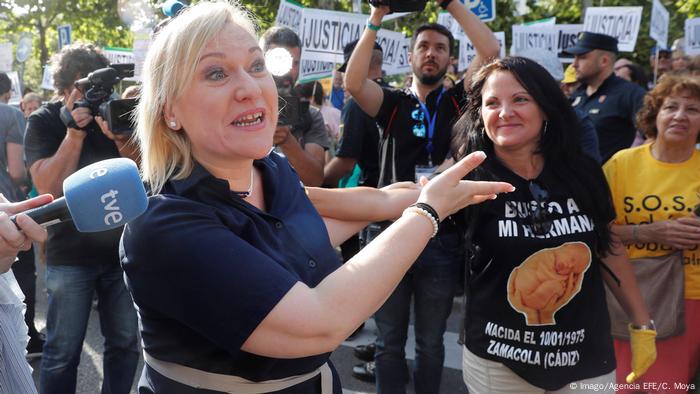 Ines Madrigal talks to the press outside the Provincial Court in Madrid in June
Enrique Vila, the president of the SOS Stolen Babies association, said in a statement that he was "surprised, outraged and saddened" by the acquittal.
Campaigners said a vast network of doctors, nurses, nuns and priests stole tens of thousands of babies up to 1987 — 12 years after Franco's death.
Madrigal began to suspect she had been stolen from her birth mother after reading a 2010 article about the clinic's involvement in the practice. The 49-year-old now heads the Murcia branch of SOS Stolen Babies and has led the case against Vela.
Previous cases have been shut down due to lack of evidence or the statute of limitations.
Read more: Spain's first 'stolen babies' trial begins against gynecologist
Baby stealing
The newborn-stealing practice began after Franco came to power following Spain's 1936-39 civil war.
Newborns were routinely taken from left-wing opponents of the regime and later from poor families and given to affluent, conservative and Roman Catholic couples.
Even after Spain democratized following Franco's death in 1975, the practice continued as an illegal trafficking network until at least 1987.
Read more: Spain hears first-ever court testimony of Franco-era crimes
Archives burnt
Vela said during the trial that he could not remember details of how the clinic, which he ran for 20 years up to 1982, operated. A policeman who worked on the investigation and testified in court said Vela had burned its archives.
Emilie Helmbacher, a French journalist who testified by videoconference, used a hidden camera to record Vela confessing to having given Madrigal away as a "gift" in June 1969. Vela's lawyer, Rafael Casas, rejected the footage, saying his client had "nothing to do" with the alleged deeds.
Each evening at 1830 UTC, DW's editors send out a selection of the day's hard news and quality feature journalism. You can sign up to receive it directly here.
jbh/kms (AFP, AP)