A Spanish court on Wednesday heard accounts of atrocities committed during the 1936-1939 civil war for the first time in history, as the trial of prominent judge and human rights advocate Baltasar Garzon continued.
Maria Martin, 81, told the court in a faint voice about his mother's capture and killing by troops loyal to Gen. Francisco Franco in 1936, when she was six years old.
"They took her out of the house and took her away," Martin said. "They released her to testify in court, but then on the way they killed her. They killed 27 men and three women."
Martin said her family has been fighting to recover her mother's body since then. She showed reporters after her testimony a hand-drawn map of where she suspects the body lies in a mass grave.
"Until the day he died in 1977 my father wrote to the local authorities to try to recover the body," she said. "They told him: 'Go away, leave us in peace or we will do to you what we did to her.'"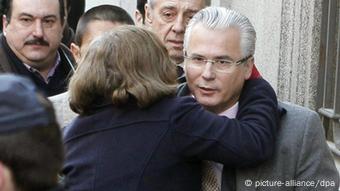 Garzon has received support from relatives of Franco victims and human rights advocates
Legally off-limits
Because of an immunity law passed in 1977 during Spain's transition to democracy, military and government officials accused of crimes under Franco's rule have been legally untouchable. For that reason, Martin's court testimony was a milestone in efforts by relatives of Franco victims who have been seeking justice for their loved ones.
Garzon, who has made headlines for pursuing international human rights cases against figures like Osama bin Laden and Chilean ex-dictator Augusto Pinochet, began Spain's first official investigation into Franco-era atrocities in 2008. The crimes include the deaths or disappearances of more than 100,000 people since the civil war.
Garzon's current trial, one of three against him, was initiated by two right-wing organizations. They accuse him of overstepping his judicial authority by disregarding the immunity law and starting the criminal probe.
Convictions in any of the three cases would effectively end Garzon's career as a judge in Spain. He denies all the charges against him, and his supporters have labeled them as an effort to silence a champion of human rights.
acb/ncy (AFP, AP)