The 50-year-old princess is accused of two counts of being an accessory to tax fraud. The princess allegedly failed to declare taxes on personal expenses paid by a real estate company she owned with her husband. If found guilty, Cristina could face up to eight years in prison. In June 2015, Spanish monarch and Cristina's younger brother, King Felipe, stripped her of her title as Duchess of Palma.
Embezzlement
Joining her in the dock on Monday were 17 other defendants, including her husband, Inaki Urdangarin. The 47-year-old Olympic handball medalist turned businessman faces a more serious charge of using his Duke of Palma title to embezzle about 6 million euros ($6.5 million) in public contracts through the nonprofit "Noos Institute," which he ran with an associate. Urdangarin faces a potential jail sentence of up to 19 years.
Prosecutors claim that some of the foundation's money was transferred to a company, largely owned by the princess and Urdangarin, and used to finance personal items ranging from parking tickets to children's birthday parties.
Deny charges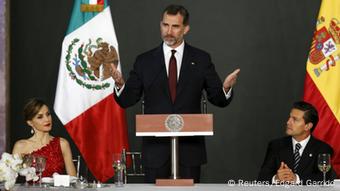 King Felipe stripped Christina of her title as Duchess of Palma in June, 2015
The couple, who have four children, have denied any wrongdoing. During a closed door court appearance in 2014, Cristina said she had no knowledge of her husband's activities, and a prosecutor recommended she should be fined.
By reason of a Spanish law, which allows groups to file charges when state prosecutors don't, a judge ruled, however, that Cristina could be charged with tax fraud in 2007 and 2008. Her case was spurred on by anti-corruption group "Manos Limpias" (Clean Hands), which is seeking an eight year prison sentence and a 2 million euro fine against her.
Anti-monarchy protests
Due to the large number of defendants and lawyers, as well as the widespread media coverage, judicial officials were forced to move the trial from a courthouse to a huge building complex on the outskirts of Palma de Mallorca.
According to Spanish authorities, a protester with an anti-monarchy flag was detained on Monday, a short time before Cristina arrived at the makeshift courtroom. Security around the building was stepped up after thousands of anti-monarchy protesters staged noisy demonstrations while Cristina answered questions about the case two years ago.
High-level corruption
The courtroom is not expected to hear a word from the princess and her husband during the first few days of proceedings. Judges are due to read out all 89 alleged crimes committed by the suspects, while lawyers, including Cristina's, will argue their cases to try remove their clients from the trial.
Details of the investigation into the royal family came to light during the economic crisis, reigniting popular disgust at cases of high-level corruption among politicians and bankers, at a time when Spain was grappling with record unemployment and austerity.
ksb/se (AFP, AP, dpa)