Felipe revoked the title "Duchess of Palma de Mallorca" from Cristina on Friday, in a new move to distance the royal family from the case against her.
"I have decided to revoke from Her Highness the Infanta Doña Cristina the attribution of the ability to use the title of Duchess of Palma de Mallorca," said a royal decree published in the Official State Gazette.
The 49-year-old princess will be the first member of the Spanish royal family to stand trial, being cited as an accessory in a case of alleged tax fraud by her husband and former Olympic handball star, Inaki Urdangarin.
Lawyer Miquel Roca - who the royal family has contracted to act for Cristina in the court case - said Cristina had sent an email letter to the royal household expressing her intention to renounce the title.
Confusion over email

Cristina's letter reportedly arrived on Thursday, after Felipe - who condemned corruption in his first Christmas speech - had already informed the princess of his intention by telephone. The Spanish newspaper El Pais said the content of the message had later been leaked, without the details of when it was sent.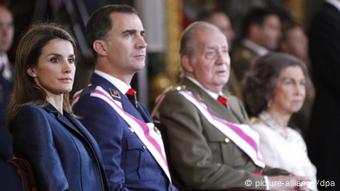 It's been a difficult few years for the Spanish royals, with the old king handing over to his heir
Cristina - who celebrates her 50th birthday on Saturday - reportedly said her decision had been taken "after painful reflection." The letter also referred to "unfounded accusations" against her by the ultraconservative anti-corruption association Manos Limpias (Clean Hands). Manos Limpias, which has brought numerous cases against public figures, has driven forward the case against Cristina.

Manos Limpias used a unique Spanish legal instrument - known as a "people's accusation" - to open an unprecedented criminal investigation into the couple. It wants eight years in jail for Cristina, and for her to be fined just over two million euros ($2.25 million).
Urdangarin is charged with embezzling some 6 million euros in public money through a charity, the Noos Institute, which he ran. Spain's public prosecutor is seeking a 20-year prison sentence for Urdangarin.
Ex-king subject of scandal
As well as the Noos case, the Spanish monarchy saw its image dented by revelations that former King Juan Carlos had gone on an elephant hunting trip to Botswana at the height of the economic crisis. Juan Carlos, who abdicated last year to make way for Felipe, apologized to the nation afterwards.
As well as throwing light on the royal family's luxury lifestyle, the hunting holiday also led to speculation about a friendship between Juan Carlos and Corinna zu Sayn-Wittgenstein, a German aristocrat 28 years his junior, who reportedly went with him on the trip. The former king was also an honorary president at the World Wifdlife Fund charity, until the images went viral.
rc/msh (AFP, AP, dpa)