Spanish lawmakers held a minute's silence in parliament to commemorate the fifth anniversary of the Madrid train bombings on Wednesday, March 11.
The 2004 terrorist attack killed 191 people and injured more than 1,800 others.
"Five years on, I want to express, in the name of the government, our support and recognition for all the victims and their families of that terrible tragedy," said Prime Minister Jose Luis Zapatero. "I hope that a terrorist attack will not occur in Spain ever again."
Official interest in the victims waning
Though several local politicians laid wreaths at small events across the city on Wednesday, victims' representatives have accused authorities of forgetting them. They said they would have hoped for bigger, official acts to commemorate the victims of the bombings.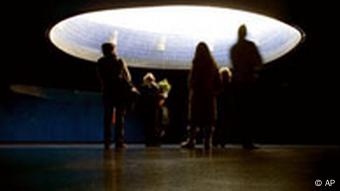 Are authorities neglecting the monument at Atocha train station?
"We have passed into the background," Pilar Manjon told the newspaper El Pais. "We are not interesting anymore." Manjon, who lost her 20-year-old son in the attack, heads an association representing the victims of the bombings.
Crown Prince Felipe and his wife Letizia are scheduled to attend a commemorative concert in the evening. Yet unlike in previous years, neither Zapatero nor King Juan Carlos will attend any official commemorative act.
During the first anniversary of the attacks, traffic came to a standstill in Madrid. People poured out of office buildings to observe five minutes of silence. But the commemorations have drawn less attention as each year passed.
Little help for survivors
Many of the survivors have been economically ruined after sustaining injuries that made them unable to work, Manjon said. The financial support given to those suffering after-effects from the attacks was insufficient, she said.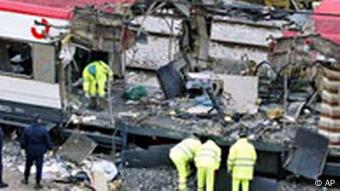 The explosions tore apart several commuter trains
Many survivors still suffered from the experience.
"Five years on, every day gets harder, although we live apparently normal lives," Javier Gilmero told the Associated Press. He said he still couldn't bring himself to get on a train.
Victims groups have also said the monument to the victims at the Atocha railway station, where some of the bombs exploded, was neglected. The glass structure was often dirty and looked abandoned, they said.
On March 11, 2004, extremists placed bombs on four commuter trains. The bombs exploded almost simultaneously during the morning rush hour period in the Madrid region. Islamic militants claimed responsibility for the bombings. They said they had acted on behalf of al-Qaeda to avenge the presence of Spanish troops in Iraq.
Three days after the bombings, Zapatero surprisingly won Spanish elections and he quickly withdrew Spanish troops from Iraq.
In October 2007, Spanish authorities sentenced 21 people for their roles in the attacks. Fifteen of them remain in prison, with the longest-serving ones due to be released in 2044.