The Spanish National Court in Madrid on Friday issued a European search and arrest warrant for Carles Puigdemont and four of his ex-cabinet members who failed to appear in court to face questioning over a Catalonian independence referendum.
Investigating judge Carmen Lamela also rejected Puigdemont's request to testify by videoconference from Brussels, where he has been since Monday.
The Catalan leader fled to Belgium with several of his colleagues after Madrid sacked his regional government following a unilateral declaration of independence from Spain.
According to the judge, Puigdemont and his associates are being sought for five different offenses, including rebellion, sedition, embezzlement and breach of trust. They are among 20 regional politicians ordered to appear before the courts over the secession bid.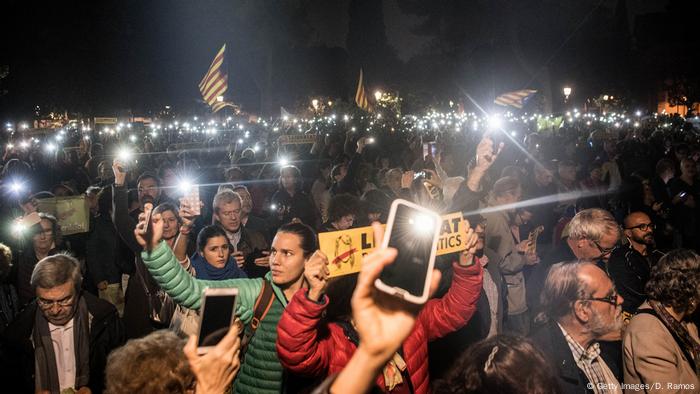 Thousands of pro-independence protesters gather in Barcelona to demand the eight jailed Catalan leaders be released
On Thursday, eight Catalan leaders, including former Vice President Oriol Junqueras, were sent to prison without bail pending an investigation into the secessionist campaign and a potential trial. They could remain in custody for up to four years. Former Business Minister Santi Vila, who stepped down from the cabinet before the independence declaration, was granted bail of 50,000 euros ($58,300).
Read more:
- Catalonia: 'Rajoy will not make concessions to anyone'
- Opinion: Puigdemont and his Catalan disappearing act
- Bosch: Spanish government 'never been proportionate or fair'
Brussels 'to study' warrant
Judge Carmen Lamela filed a request with a Belgian prosecutor to detain the five Catalan leaders, as well as issuing separate search and arrest warrants to alert Europol in case they flee Belgium. Belgium has a maximum of three months to decide whether to extradite Puigdemont to Spain.
A spokesman for Belgium's state prosecutor confirmed the authority had received the warrant.
"We will study it, and put it in the hands of an investigating judge. That could be tomorrow, the day after or even Monday," spokesman Eric Van Der Sijpt said. "We are not in any hurry."
Just hours earlier, Puigdemont told Belgian state broadcaster RTBF he was ready to hand himself in to Belgian authorities but would not surrender to judicial officials in Spain.
"I will face justice, but (only) true justice... I told my lawyers to tell the Belgian judiciary I am completely ready to cooperate," he said. "I have not fled (Spain), but it is impossible to prepare well there (for my defence)."
The Catalan leader's Belgian lawyer Paul Bekaert, who has helped Basque separatist militants challenge Spanish extradition, said his client did not see the climate as "conducive to testifying." He added that his client would appeal if a Belgian judge approved an extradition to Spain.
Puigdemont also insisted he was prepared to run in a snap Catalonian regional election called by Madrid on December 21, even if it means campaigning from Belgium.
"We can run a campaign anywhere because we're in a globalized world," he said.
Protests in Barcelona
DW reporter Charlotte Chelsom-Pill said a large crowd of pro-independence protesters gathered in Barcelona again on Friday to show their opposition to the warrant, as well as to Thursday's jailing of eight Catalan leaders.
Catalan civic group Asamblea Nacional Catalana (ANC), meanwhile, called for street demonstrations across the northeastern region.
"Today, at 7 pm, everyone in front of the city halls to demand freedom of political prisoners," the assembly wrote in a Twitter post. "They will not silence the voice of a free people!"
The ANC and Omnium Cultural — whose leaders were imprisoned last month on sedition charges — have called a general strike on November 8 and a mass protest on November 11.
Six other Catalan leaders are due to testify in the Supreme Court on November 9, over their involvement in the independence referendum.
What has happened so far:
Spain's Catalonia region held an independence referendum on October 1 that was declared illegal by the central government in Madrid
Catalonia's leaders unilaterally declared independence from Spain on October 27
Madrid exercised constitutional powers allowing it to take over the running of Catalonia
Spanish Prime Minister Mariano Rajoy dismissed the Catalan cabinet and dissolved the regional parliament
Spanish prosecutors filed rebellion charges against Catalan leaders
Carles Puigdemont traveled to Brussels with several ex-cabinet ministers, saying he was seeking "freedom and safety"
nm/rt (Reuters, AP, dpa)